Rescue teams on Monday resumed a grim search for the missing after a deadly typhoon pummelled western Japan leaving at least 25 people dead and more than 50 unaccounted for.
Torrential rain brought by powerful Typhoon Talas, which made landfall in western Japan on Saturday, caused rivers to swell and triggered floods and landslides that swept away buildings, homes and roads.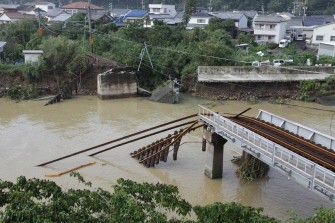 A railway bridge is collapsed in the Nachi river, caused by flood at Nachikatsuura city in Wakayama prefecture, western Japan on September 5, 2011.
Police and firefighters resumed a search for the missing early Monday, warning that the number of victims was set to rise as the continued threat of landslides and damaged access routes hampered relief efforts.
In the deadliest typhoon since an October 2004 storm killed nearly 100 people, the floods it triggered gave rise to scenes eerily reminiscent of the aftermath of the March 11 tsunami that hit northeast Japan.
In Nachikatsuura a railway bridge was swept into a river, while TV footage showed splintered trees, crushed houses and cars tossed onto walls and buildings by the raging floodwaters that inundated entire neighbourhoods.
By Sunday, Talas was downgraded to a tropical storm after it moved over Japan and into the Sea of Japan (East Sea), the nation's Meteorological Agency said, but a continued risk of further landslides posed a threat to rescue and recovery efforts.
The storm came after new Prime Minister Yoshihiko Noda was sworn in on Friday, replacing Naoto Kan, who was heavily criticised for Japan's response in the aftermath of the March 11 disasters.
"We will do our best in saving lives and finding the missing," Noda told reporters early Monday.
The Talas weather system, moving as slow as 10 kilometres (six miles) per hour, dumped 1.8 metres (six foot) of rain on a village in Nara prefecture for five days through Sunday, more than Tokyo's annual average rainfall, said the Yomiuri daily.
Wakayama prefecture was the hardest hit region, where 17 people were killed and 28 were still missing. More than 1,000 police continued the search Monday.
"We are struggling to get a hold on the current situation... electricity is out and destroyed roads are preventing our vehicles from going into affected areas," said an official at the fire department in Tanabe, Wakayama prefecture.
"We are conducting operations everywhere in the city. With phone lines down, however, we have no means of communication" with those stranded in areas hit by landslides or flooding, the official said.
One woman was killed in a mudslide and seven others were missing in the city.
The wife and daughter of Nachikatsuura town mayor Shinichi Teramoto went missing as he ran disaster relief operations Sunday, media said.
His house in the town with a population of 17,400 was destroyed by a torrent of water.
Television footage showed massive landslides crushing wooden houses in mountain communities, with muddy water submerging streets and washing away wooden debris and cars.
A tally by Kyodo News gave a higher toll than the official figures, with 26 people dead, 54 missing and at least 3,600 left stranded by landslides and collapsed bridges