JOPLIN, Missouri, May 24, 2011 (AFP) - Rescue crews clawed through the rubble overnight searching for survivors Tuesday after a tornado in Missouri killed 116 people, amid warnings that more powerful storms were on the way.
"That's all that's left," Roger Dedick said on Monday as he pointed to a section of foundation, the remains of his home of 17 years in Joplin after the deadliest single tornado in six decades ripped through the town.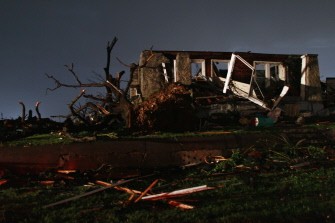 AFP - A damaged home is seen surrounded by debris from other homes after 116 people where killed when a massive tornado passed through the town on May 23, 2011 in Joplin
He had had to use a metal bar to pry himself out of his crushed home.
Down the street, Carolyn Hall fought back tears as she and her teenage sons combed their destroyed home hoping to find some clothes and the family cat.
Only a few interior walls remained standing, but after a desperate search came a ray of hope when they found the terrified cat hiding under a bed.
Around the corner, Dottie and Tim Sumners had uncovered scores of framed photos and albums, memories that survived when the massive mile-wide tornado, with winds of up to 200 miles (320 kilometers) an hour hit late Sunday.
"I'll never disregard the sirens again," said Dottie Sumners.
Her husband looked on grimly at the scenes of devastation, and said they would rebuild their home of 33 years. "We'll make it," he said.
More than 2,000 buildings -- or about a third of the city of 50,000 near the border with Kansas and Oklahoma -- were damaged or destroyed, when the twister came roaring through with just a 24-minute warning.
The Joplin tornado is on course to be the deadliest single twister to strike the United States since modern record keeping began in 1950 -- matching the toll in a tornado in Flint, Michigan in 1953 that also left 116 people dead.
A single twister in 1925 is said to have left 695 dead in Missouri, Illinois and Indiana, but that was before accurate record-taking began.
Joplin residents were warned that more potent storms were on the way after Sunday's massive twister cut a swath of destruction four miles (6.4 kilometers) long and three quarters of a mile (more than a kilometer) wide.
"There are going to be some things out there that are going to be hard to see and stomach," Missouri Governor Jay Nixon said, as the grisly rescue effort began in earnest.
Some 1,150 wounded people were also treated in area hospitals, The Joplin Globe reported.
Flames and smoke from broken gas lines clouded the wreckage as block after block of homes and businesses were reduced to rubble and cars were tossed so violently into the air that nothing was left but crumpled heaps of metal.
Jeff Law, 23, was able to take shelter in a storm cellar and was overwhelmed by what he saw when he emerged.
"I've lived in this neighborhood my entire life, and I didn't know where I was," Law told the Springfield News-Leader. "Everything was unrecognizable, completely unrecognizable. It's like Armageddon."
Caring for the injured was made more difficult because the main hospital, Saint John's Regional Medical Center, had to be evacuated after suffering a direct hit -- the tornado ripped off its roof and smashed all its windows.
A tangled medical helicopter lay in the rubble of crushed cars, broken glass and medical records strewn outside the hospital.
President Barack Obama sent his "deepest condolences" to victims and promised government aid, as more severe weather was forecast for Oklahoma, Kansas, extreme northern Texas and southwestern Missouri.
Russel Schneider, director of the Storm Prediction Center in Norman, Oklahoma, said there was a "serious situation that's brewing."
"It is possible, if not likely, that we'll be moving to our highest alert status sometime during the next 12 to 24 hours as we gather more information,"
he was quoted as saying by the McClatchy newspaper service.
North of the hardest hit areas, Missouri Southern State University campus was hastily turned into headquarters for the homeless and hungry, and 110 people had sought shelter by midday Monday.
Although Jeff Malley's house was destroyed, he survived. He, a friend and his dog Sprocket made it through by hunkering down in a closet.
"It was dark inside at first, then it was daylight," he said. The walls of the closet were the only part of the house left standing.
The storm was the deadliest of 73 tornadoes reported to the National Weather Service in nine central states over the weekend and comes after a horrific tornado outbreak left 361 dead in April across several US states.