Mass flight cancellations heaped fresh misery on European travellers Tuesday, as the freezing weather that has caused at least 90 deaths on the continent brought chaos to Christmas holiday plans.
Passengers stranded by snow-blocked roads, delayed trains and a three-day suspension of the Eurostar rail service found little relief at airports as icy runways were closed and heavy snow grounded hundreds of flights.
At least 90 people have died in winter storms across Europe, including 10 in Poland in the last day, the majority of them homeless men. Temperatures there have plunged to minus 20 degrees Celsius (minus four degrees Fahrenheit).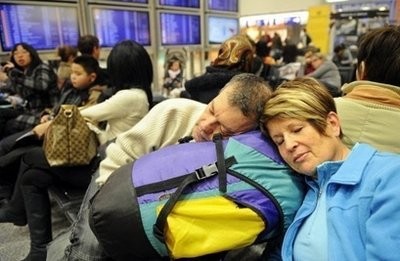 Stranded passenger sleep at Frankfurt airport.
Related article: Snow no match for Japan's bullet train
And there looks to be more bad weather on the way -- Britain expected to be hit by more snow across Scotland and northern England late Tuesday.
While Eurostar resumed a limited service on Tuesday, EasyJet cancelled more than 200 flights due to the "significant snowfall" and airport closures across Europe, while Irish carrier Ryanair grounded about 65 flights.
British Airways also cancelled a "small number" of short-haul flights on Tuesday morning, blaming the disruption caused by Monday's heavy snowfall which had shut London Gatwick, Britain's second busiest airport, for several hours.
Germany's Frankfurt airport, Europe's third busiest, was closed for about four hours overnight after the runways iced over, stranding about 8,000 people.
And in Berlin, freezing rain led to the closure of the main international airport Tegel for about an hour.
London Luton airport was also closed overnight, and although it re-opened many flights were cancelled or subject to lengthy delays.
In Italy, Milan's Malpensa airport was closed in the morning after heavy snowfall.
At Linate airport, which also serves the northern industrial city, hundreds of passengers spent the night after the national carrier Alitalia, which accounts for some 75 percent of the airport's capacity, cancelled all flights.
British Airways chartered a Boeing 747 on Monday to fly about 350 stranded passengers between London Heathrow and Paris Charles de Gaulle, and said it would repeat the service again later Tuesday, a spokesman said.
But while flights hit problems, passengers were finally able to travel through the Channel Tunnel on Eurostar after the operator solved the problems which caused trains to break down on Friday, stranding 2,000 people.
Eurostar said fewer passengers than originally expected had turned up on Tuesday, after many had found alternative transportation, and two-thirds of services ran.
"We have been pretty successful in clearing the backlog of passengers who have been waiting to travel since both Saturday and Sunday," its chief executive Richard Brown said.
The company said it would continue to operate a restricted service on Wednesday and Thursday.
More freezing fog was expected at Stansted, north of London, and forecasters from Britain's Met Office also issued severe weather warnings across the country, warning of icy roads and thick snow in eastern Scotland.
Britain's Automobile Association said Monday was their busiest night for 25 years, with about 700 calls received every hour.
In Buckinghamshire, west of London, about 100 people, including 20 children, spent the night in the John Lewis department store after being snowed in.
"There was no way that I was going to throw customers out into that," said store managing director Deborah Strazza, adding: "Basically we made up the beds and they all snuggled down in the bed department."