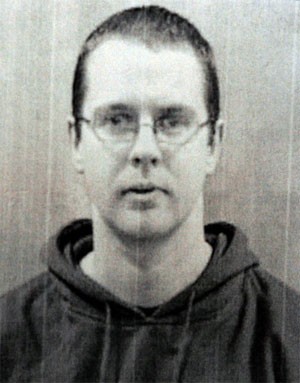 Charles Roberts
Survivors clung to life Tuesday as police tried to puzzle out an "execution style" shooting in a quiet Pennsylvania Amish community, the third fatal killing in a US school in a week.
Four girls were killed and eight others wounded, two of whom were described in "dire" condition, after a heavily-armed gunman with a grudge burst into the one-room rural schoolhouse Monday.
Police who stormed the building at the sound of gunshots found three girls, including a teenage teaching assistant, and the gunman dead.
Lancaster General Hospital spokeswoman Kim Hatch said another girl taken to hospital died hours later, though police did not immediately confirm this.
Amish men in suspenders and straw hats gathered in shock outside the school set amid cornfields in Nickel Mines, 55 miles (88 kilometers) west of Philadelphia.
State Police Commissioner Jeffrey Miller named the gunman as 32-year-old truck driver Charles Roberts, a married father of three who was not Amish.
Miller said that in a final conversation with his wife before killing himself, Roberts said he wanted "revenge" for something that happened 20 years ago.
"He was angry, angry at God," Miller said, adding that Roberts "was equipped for a lengthy siege."
Miller said his officers found "horrendous" carnage when they forced their way into the Georgetown Amish school.
Roberts had nailed lumber across the inside of the door after entering the school shortly before 10 in the morning on Monday.
Police were notified about 45 minutes later when a teacher who escaped placed a call from a nearby farm house.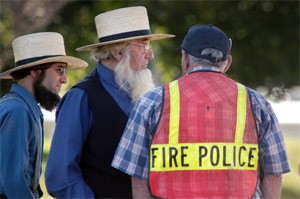 An Amish man speaks with a fire police officer at the scene of a shooting at a one room Amish schoolhouse 02 October 2006 in Nickel Mines, Pennsylvania
Roberts ordered the adults and 15 boys aged six to 13 to leave, keeping behind 11 girls -- three teenage teachers aides and eight younger girls.
The girls were bound with wire and plastic cord and lined up against the blackboard.
Police surrounded the school at around 11:45 and frantically tried to make contact with Roberts, then rushed the building after hearing several rapid gunshots in succession.
"It appears that when he began shooting the victims, these victims were shot execution style in the head," Miller told reporters.
Some "were shot in the head, some were shot in the arms," Miller added.
"One of the children died in the arms of one of our troopers," Miller said. "It is a horrendous crime scene."
A spokeswoman at the Children's Hospital of Philadelphia said three girls -- aged eight, 10 and 12 -- were undergoing surgery for gunshot wounds.
A spokeswoman said the Hershey Medical Center in Hershey, Pennsylvania was treating three shooting victims: two girls aged eight and six in critical condition, and a 13-year-old whose condition had been upgraded to serious.
Miller said the gunman's exact grudge was not known, but Roberts left suicide notes for his children and called his wife from the scene moments before he died.
"Apparently there was some sort of an issue in his past that he, for some reason, wanted to exact revenge against female victims," Miller said.
Roberts had grown up in the area and was well known.
The Roberts family released a statement saying: "Our lives are shattered and we grieve for the innocent and lives that were lost today."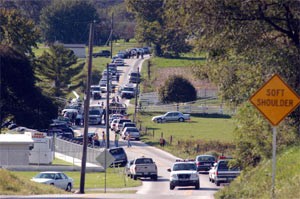 Police and emergency vehicles are seen parked at the scene of a shooting at a one room Amish schoolhouse 02 October 2006 in Nickel Mines, Pennsylvania.
US President George W. Bush was "deeply saddened and troubled" by the shooting Monday, and ordered his cabinet officials to find ways to help in the aftermath of recent school shootings, said Dana Perino, a White House spokeswoman.
Last week a 16-year-old schoolgirl was killed when a gunman took six hostages at a Colorado school before opening fire and turning the gun on himself as police stormed a classroom.
On Friday, the principal of a Wisconsin high school was killed after being shot by a student.
There are about 200,000 followers of the reclusive Amish sect in about 20 US states and the Canadian province of Ontario. They eschew technology, and preach isolation from the modern world.
Their distinctive tiny black, horse drawn buggies are a familiar site on the roads of Lancaster County, and the community was a model for the 1985 movie "Witness," starring Harrison Ford.