Mexican authorities say a state police officer has been slain while on patrol in Monterrey, becoming the ninth officer killed in just two weeks in the northern industrial city.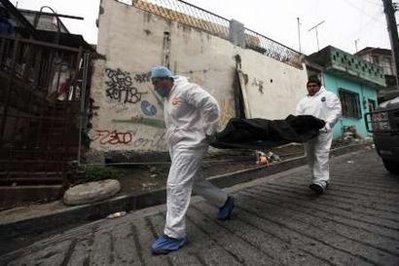 A forensic team carries the body of one of three gunmen killed during a gunfight with the army in Monterrey January 13, 2011.
Nuevo Leon state security spokesman Jorge Domene says the officer was on patrol near the Tec de Monterrey University when he was killed. He says a joint state and military task force later killed three gunmen suspected in the attack.
Four city police officers, three traffic officers and a police prison guard have also been shot dead since the beginning of the year in Monterrey.
The city is the capital of Nuevo Leon state, which has seen a spike in drug violence as drug cartels fight over smuggling routes to the United States.