BERLIN, March 7, 2010 (AFP) - Robbers wielding hand guns and a machete raided a million-euro poker tournament in Berlin -- but were forced to leave much of their haul behind after a security guard tackled them, police said.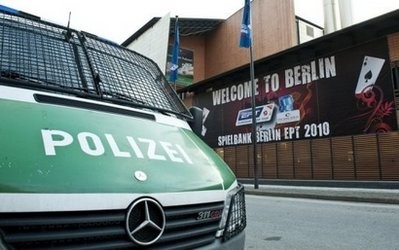 A police vehicle is parked in front of the Grand Hyatt Hotel at Potsdamer Platz, Berlin on March 6. AFP photo
The masked gang burst into the Grand Hyatt hotel in central Berlin on Saturday, where the tournament was taking place, threatening security staff and prompting a brief panic, police spokeswoman Heidi Vogt told AFP.
"Several masked, armed individuals entered the Grand Hyatt and fled with a haul of money," Vogt said, without giving details of the sum involved.
The attack on the tournament happened at around 2:15 pm (1315 GMT) said a police statement issued later Saturday.
The attackers, armed with hand guns and a machete, ordered staff to hand over the money.
"Seven people were slightly hurt" in the panic caused by the raid, said a later police statement.
Among them was a security guard who tried to tackle one of the robbers but was set upon by the other raiders, it added.
During the scuffle, however, the raiders lost a bag containing a large part of their haul, said the police statement.
Images of the chaotic scenes during the raid were broadcast by the private n-tv television station, showing furniture overturned and poker players hiding under tables and trying to escape.
One witness, Jasmin Wiegand, told n-tv the attack lasted around 10 minutes and said security staff had responded "very bravely".
Police did not say how much the robbers got away with, but an earlier report on the website of Berlin's Tageszeitung newspaper said the raiders had got away with 800,000 euros (1.1 million dollars).
Four of the attackers entered the hotel from Potsdamer Platz, one of the German capital's most important and popular squares, while two others kept watch, the Tageszeitung reported.
It also said the attackers had been armed with Kalashnikov assault rifles and grenades.
An earlier police statement said that among those hurt in the raid were some of the tournament players. Police have made an appeal for any witnesses to the robbery.
The tournament organiser, the European Poker Tour (EPT), said the raiders had probably been attracted by the one-million-euro prize on offer to the winner of the event. They did not say how much was stolen.
A statement on their website called on anyone with photo or video footage of the robbery to hand it over to the police.
The tournament, which German tennis legend Boris Becker took part in earlier, resumed around four hours after the attack, according to n-tv and the website pokernews.com.
Nearly 1,000 players are to take part in the five-day poker tournament, the EPT's first in Berlin.