Gunmen seized 65 schoolchildren, teachers and other residents of a village in the volatile southern Philippines on Thursday, then released 18 of them, authorities said.
Major Michelle Anayron, an army spokesman, told AFP a "criminal gang" abducted the group from San Martin village in Agusan del Sur province on Mindanao island.
Anayron said the suspects were members of the Perez Group, which he described as an "organised crime group" that is known to local police.
The area is a well-known hotbed of communist New People's Army guerrillas, but Anayron said the Perez Group was not believed to have communist links.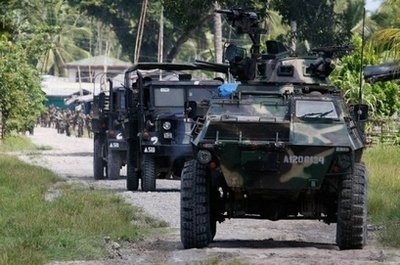 File photo shows Philippine soldiers on patrol on Mindanao island, in the southern Philippines.
He gave no other details about the group.
Provincial police director Chief Superintendent Lino Calingasan said 18 of the captives were freed unharmed, 17 of whom were schoolchildren and the other a teacher, after eight hours in captivity.
"Negotiations are still continuing for the safe release of the other hostages," Calingasan told reporters.
Mindanao is an extremely volatile part of the Southeast Asian archipelago, and makes up the southern third of the country.
Aside from communist fighters, Muslim rebels fighting for an independent homeland have waged an insurgency since the 1970s that has claimed more than 150,000 lives, according to the military.
Many other gangs with no affiliations to communists or Muslim rebels frequently engage in kidnappings for ransom and other crimes.
Martial law was imposed in another province on Mindanao last week after a political massacre there left 57 people dead.