Guns were silent along the Thai-Cambodia border on Monday after three days of jungle clashes between rival troops, but hopes for a diplomatic solution faded after the abrupt cancellation of talks with a top regional envoy.
Indonesian Foreign Minister and Association of South East Asian Nations (ASEAN) chair Marty Natalegawa had been due in Thailand and Cambodia for talks on Monday, but his trip was canceled, Thai and Cambodian government officials said.
Natalegawa had brokered a U.N.-backed peace deal on February 22 that would have posted unarmed military observers from Indonesia along the border. That deal was never put in place. Thailand says international observers are not required, insisting the dispute can be resolved bilaterally.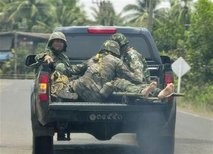 Thai soldiers transport an injured comrade during fighting with Cambodian troops at the Thai-Cambodia
Thai government spokesman Panitan Wattanayagorn said the visit was canceled because Thailand and Cambodia had not yet settled on terms for the Indonesian observers.
At the center of the latest dispute are two 12th-Century stone-walled Hindu temples, Ta Moan and Ta Krabey, in a heavily mined jungle area claimed by both sides. Thailand says the two temples are in its Surin province but Cambodia insists the ancient ruins fall in its territory.
Fighting late on Sunday killed a Thai soldier, bringing the official death since Friday to five Thai soldiers and 25 wounded, and six Cambodians killed and 17 wounded.
U.N. Secretary-General Ban Ki-moon has urged "serious dialogue" to produce an "effective and verifiable" ceasefire and halt the grenade and artillery bombardments.
Although on the surface the renewed fighting appears to be a dispute over sovereignty, many experts are skeptical and suggest either government may have started the clashes to discredit the other or to appeal to nationalists at home.
The conflict could boost support for Thailand's government ahead of an election due by July or coversely, it could scuttle the poll, which would benefit politically connected nationalists who have been campaigning for a boycott.
VILLAGERS FLEE
The two sides battled for more than three hours from late Sunday morning and pounded each other with mortars and artillery, sending hundreds of villagers fleeing or into hiding in makeshift bomb shelters.
In Ban Nongkana, 7 km (4 miles) from Ta Moan, villagers scurried for cover, bundling belongings into pickup trucks. Soldiers carried the elderly to safety.
The dispute over jurisdiction has persisted since the 1950s, when colonial power France pulled out of Cambodia.
Thailand's Foreign Ministry issued a statement late on Sunday accusing Cambodia of firing heavy weapons to pave the way for an attempted invasion by ground troops into Thai territory to "seize and take control" of Ta Moan.
It said Thailand responded "proportionally" after its troops and nearby villages came under attack, a similar claim made by Cambodia, which accused Thailand of trying to force it into bilateral talks.
Cambodia wants third-party mediation from ASEAN to end the hostilities and says Thailand should honor the February agreement to deploy unarmed military observers from Indonesia.
"This is something we clearly want to see. Without a third-party observer, we will just point fingers at each other about who fired first," Cambodian Foreign Ministry spokesman Koy Kuong said.
The fighting broke a fragile peace deal agreed after 11 troops and scores of civilians were wounded in February 4-7 clashes 150 km (90 miles) away, near Preah Vihear, another temple both sides have long fought for on the battlefield and in the courts.
An international court ruling awarded Preah Vihear to Cambodia in 1962, but Thailand has tried to thwart its attempt to list the temple as a UNESCO World Heritage Site because it still lays claim to the 4.6-sq-km of scrub around it.