PORT-AU-PRINCE (AFP) – Haiti's cholera death toll passed 1,000 as mounting anger at the health crisis saw tensions spike with UN peacekeepers accused by some of being the source of the outbreak.
Burning tires wafted thick black smoke across the northern city of Cap-Haitien, where thousands of protesters went on the rampage Monday, setting a police station ablaze and threatening to torch a UN compound.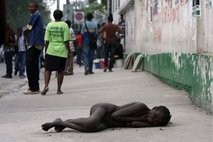 A woman suffering from cholera lies on the pavement near the General Hospital (AFP)
Two Haitians died in the riots, including one shot by a peacekeeper in an incident that raised fears of further unrest targeting the unpopular United Nations force, which is known by the acronym MINUSTAH.
Six UN peacekeepers were injured in a second protest Monday in the central city of Hinche, near the base of a Nepalese unit accused of bringing the Vibrio cholerae bacterium into the country.
"We are monitoring the situation in other towns where demonstrations were attempted this morning," a police officer told AFP Tuesday on condition of anonymity.
He said Interior Minister Paul-Antoine Bien-Aime and Haitian police chief Mario Andresol would lead a delegation to the north in the coming days to help restore calm.
The cholera death toll rose Tuesday to 1,034, the health ministry said, with about 16,800 people hospitalized since the disease surfaced in late October -- the quake-hit nation's first outbreak since the 1960s.
A first case of cholera was detected Tuesday in the Dominican Republic, which shares the island of Hispaniola with Haiti, Public Health Minister Bautista Rojas said.
The patient is a 32-year-old Haitian-born man, a construction worke who was home in Haiti on vacation before returning to the Dominican Republic November 12.
Dominican authorities had tightened border controls and stepped up health checks in an attempt to stop the disease from spreading from Haiti, where the death toll climbed past 1,000 on Tuesday.
Among the Dominican initiatives has been to search homes and detain people suspected of trying to get across the border without proper documentation and who may be infected. By Tuesday they had detained 170 people, authorities said.
Haitian officials have struggled to battle the disease in a nation still ravaged by a January earthquake that killed 250,000 people and left 1.3 million people homeless.
Officials fear the cholera epidemic could spread like wildfire if it infiltrates squalid camps around the capital where hundreds of thousands of quake refugees live in cramped and unsanitary conditions.
MINUSTAH issued a statement linking the protests to presidential elections in less than two weeks time and calling on Haitians not to allow themselves to be manipulated by "the enemies of stability and democracy."
"The way the events unfolded leads to the belief that these incidents were politically motivated, aimed at creating a climate of insecurity ahead of the elections," it said.
There are claims the outbreak emanated from septic tanks at the Nepalese base which is suspected of leaking diseased feces into a tributary to the Artibonite River on Haiti's central plateau.
A Nepalese army spokesman in Kathmandu hit out at the "false rumors" and told AFP they had reinforced security for their peacekeepers in Haiti and had even drafted in Haitian police to help with their protection.
MINUSTAH has said it has tested some of the Nepalese and found no trace of cholera, and health officials have said that although Haiti's cholera is a south Asian strain this is no smoking gun as the strain is very common.
US experts are running more DNA sequencing tests on samples collected from Haitian cholera victims, but experts say the exact origin of the strain causing the epidemic in Haiti will never be known.
The November 28 elections could even be in doubt as there are now cholera cases in every one of Haiti's 10 departments and leading aid group Doctors Without Borders (MSF) says its facilities in the capital are overrun.
"We're worried that we won't have the capacity to treat all patients in the coming days," said MSF emergency coordinator Caroline Seguin.
"They're arriving in large numbers, our hospital is completely full, we're even having to refuse referrals because we know we?re unable to treat them."
During the first days of the epidemic, MSF said its teams were receiving three new patients with cholera-like symptoms each day in Port-au-Prince, and now they're seeing 300.