PORT-AU-PRINCE, Jan 31, 2010 (AFP) - Haitian police were holding 10 US citizens Sunday on suspicion they tried to slip out of the country with 31 Haitian children in a trafficking scheme, a government minister said.
Haitian Social Affairs Minister Yves Christallin said the police arrested five men and five women with US passports, and two Haitians, as they tried to cross into the Dominican Republic with the children Friday night.
He said two pastors were also involved, one in Haiti and one in Atlanta, Georgia.
"This is an abduction, not an adoption," said Christallin.
Christallin said the US citizens did not have the proper documents to take the children out of Haiti, nor letters of authorization from their parents.
The children were aged two months to 12 years and had come from different places, he said.
"What is important for us in Haiti is that a child needs to have an authorization from this ministry to leave the country," he said.
US embassy officials were not immediately available to comment on the case.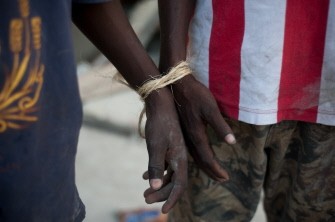 Two suspected looters are tied up in Port-au-Prince on January 30, 2010. AFP photo
Haitian officials have voiced fears that child traffickers will take advantage of the chaos after Haiti's massive January 12 quake to slip out of the country with children in illegal adoption schemes.
There is also concern that legitimate adoption agencies may rush to take earthquake orphans out of the country before proper checks have been conducted to confirm their parents perished.
Haiti's quake severely crippled government agencies and pitched the country into a communications morass.
In an interview with NBC news, a family member of one of those arrested said the Americans believed the matter was a misunderstanding over documentation. They were identified by Christallin as members of an Idaho-based charity called New Life Children's Refuge.
Haitian police chief Mario Andresol said the Americans were being held at the Judicial Police headquarters in Port-au-Prince and that the children had been transferred to a facility north of the city, in Croix de Bouquets.
He said an investigation was underway to determine how the children came into the Americans' custody.
"Now it's up to the Justice Department do to their job," Andresol said.
A document posted online by the group asks for donations to bring 100 Haitian children to safety in the Dominican Republic and for volunteers to take care of the children during two-week stints.
Under the heading "Purpose," it reads: "Rescue Haitian orphans abandoned on the streets, makeshift hospitals, or from collapsed orphanages."
It says the group has leased a 45-room hotel in Cabarete as a temporary shelter for the children.
It also includes a prayer request "for God to continue to grant favor with the Dominican government in allowing us to bring as many orphans as we can into the DR."
Christallin said it was "too bad that it was Americans who have been implicated in this affair, because they are helping us (with earthquake relief), as many countries are."
The United States has urged citizens moved by Haiti's earthquake to show patience in adopting children, as reports emerge that some children have fallen prey to human traffickers, or even misidentified as orphans.
Haiti said its prime minister will have to sign off on every minor's departure abroad for the time being.