PORT-AU-PRINCE (AFP) – Rescuers pulled a man alive from the rubble on Saturday 11 days after Haiti's devastating earthquake, raising hopes of finding more survivors even after the government called off search efforts.
Wismond Exantus, 25, said he survived his ordeal in the ruins of the grocer's shop where he worked by drinking Coca-Cola and eating snacks, a rare tale of hope from a disaster that has claimed more than 112,000 lives.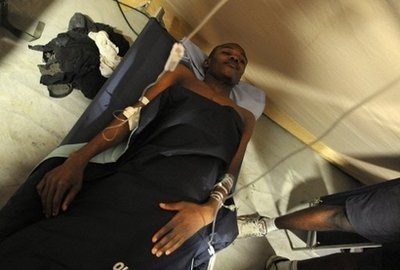 Wismond Exantus lies in a camp bed in a French field hospital in Port-au-Prince. AFP photo
His rescue came as thousands of survivors wept outside the capital's shattered cathedral for the funeral of the archbishop of Port-au-Prince in a moving ceremony that symbolized the deep mourning of the Caribbean nation.
"I feel good," Exantus told AFP in Creole from his hospital bed after French, American and Greek search and rescue teams removed him from the debris on a stretcher.
"I survived by drinking Coca-Cola. I drank Coca-Cola every day, and I ate some little tiny things," he said.Scene:Survivor describes his ordeal
Exantus' brother said he had been unable to approach the shop, in a dangerous area plagued by looters, because of the police. His family eventually alerted a Greek rescue team to his cries deep under the remains of the shop.
"We can say it's really a miracle and we can hope that it's not the last," said French rescue team commander Lieutenant Colonel Christophe Renou.
The United Nations announced just hours earlier that Haiti's government had on Friday declared an end to search-and-rescue efforts so aid workers could focus on getting supplies to the estimated 600,000 people left homeless by the quake.
But more than 60 international rescue teams continued to search for signs of life, having already saved 132 people across the razed city since the January 12 disaster.
But the tragic aftermath of the quake was on display at the funeral mass for popular Archbishop Joseph Serge Miot in front of the city's destroyed Roman Catholic cathedral.
He died when his office adjoining the cathedral collapsed in the 7.0-magnitude quake.
President Rene Preval led a crowd of several thousand who wept and sang.
"The Creator wants us to take part in the creation of a new country, a new Haiti, a new world," said Joseph Lafontant, the auxiliary bishop who led the service.
Several thousand people also took part in group prayers on the Champ de Mars, near the wrecked presidential palace, led by energetic evangelists.
"All the bad spirits in the presidential palace must disappear!" shouted one preacher. Participants prayed, shouted and waved their hands toward the palace.
The confirmed death toll had risen to 112,226 by Saturday, an official government tally said.
Aid workers increased the pace of deliveries to those living in squalid conditions beneath tents or in makeshift camps across the capital.
The UN World Food Program said it had distributed two million meals on Friday and a total of 150 health facilities were now running across the city, the World Health Organization said.
A US Marine unit had arrived off the coast of Haiti Saturday to bolster its aid contingent, the US military said. A total of 20,000 US military personnel are due to be in Haiti or on ships offshore by Sunday.Related article: Forgotten orphans finally get aid
Normal life was also returning to parts of the capital, with some shops and street vendors back in business, traffic flowing and people lining up to wait for private banks to reopen.
But elsewhere some pillaging continued in the main shopping street of Port-au-Prince and UN troops fired warning shots and sprayed tear gas on survivors after a food delivery spiraled out of control on Saturday.
Meanwhile a huge relocation of survivors out of the capital continued.
More than 130,000 people have taken advantage of the government's offer of free transport to other cities where it is setting up new tent camps, the UN said. An unknown number of other people had left the capital by private means.
Hollywood heartthrob George Clooney meanwhile led a galaxy of stars Friday in a telethon fundraiser.
Broadcast across every major US television network the telethon raised more than 58 million dollars.
World powers will discuss plans to rebuild the country at a major donor conference on Monday in Montreal.Related article: Montreal to host talks
Experts have warned that hundreds of thousands of Haitians will be living off foreign aid and in temporary housing for years to come as rebuilding the nation may take at least a decade.