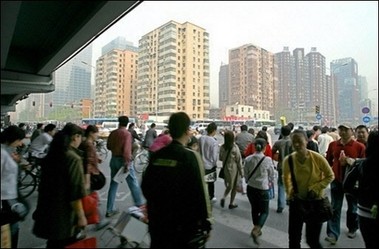 A busy street scene in central Beijing, April 2007 (AFP Photo)
More than half of the world's population will live in cities by 2008, a UN report said Wednesday urging help for poor nations, the first in line to be hit by galloping urbanisation.
Developing countries should not try to put the brakes on urban growth, but instead implement social policies to benefit from the phenomenon, the United Nations Population Fund (UNFPA) said.
Some 3.3 billion people will live in urban areas by next year, the UN agency said in its report on the state of the world's population in 2007, released both here and in New York.
And that figure will continue to grow rapidly, with the urban population set to rise to 4.9 billion inhabitants in 2030, or six out of 10 people among an eight billion-strong population.
"Most of this growth will be in developing countries," the report said, pointing especially to Africa and Asia where the urban population will double from 2000 and 2030, from 1.36 billion to 2.64 billion.
In Latin America, the number of urban-dwellers will continue to expand but "more slowly", while the growth in developed countries is expected to be "relatively little".
As a result, by 2030, 81 percent of the world's urban population will be concentrated in developing countries, nearly 70 percent of them just in Africa and Asia, the UNFPA said in the report.
Urban explosion would be all the more difficult to control because "poor people will make up a large part of future urban growth", it warned.
However, if it is anticipated, urbanisation can play a positive role in economic development, the UN agency highlighted, raising a "call to action" from developing countries to draw its benefits.
The UN report criticised policies of fighting rural migration such as the expulsion of squatters or refusal to provide services such as water or electricity distribution in slum areas.
Putting forward two main recommendations, the UN agency suggested regulating urban population growth by enabling women to avoid unwanted pregnancies through action to promote equality of the sexes, such as allowing girls to attend school and providing adequate contraception.
The second line of attack, it said, was to take "explicit concern with the land needs of the poor".
"Having a secure home and a legal address is essential for people to tap into what the city has to offer", the UN agency concluded.