Khaled Meshaal, political leader of militant group Hamas, is expected to try to boost support for the incoming Palestinian government as he visits Moscow Monday.
At the talks Russia intends to "continue its efforts to help stabilise the situation in the Palestinian territories and overcome inter-Palestinian disagreements," the Russian foreign ministry said.
The talks with Russian officials will address demands by the Middle East diplomatic Quartet -- Russia, the United States, the European Union and the United Nations -- that Hamas recognize Israel and renounce violence, the ministry said.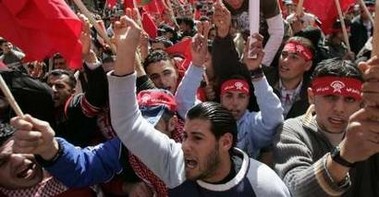 Palestinians supporters for Democratic Front for the Liberation of Palestine (DFLP)
Hamas spokesman Ismail Radwan said Meshaal would try to "capitalise on the constructive Russian position within the Quartet" in order to win the lifting of the economic embargo imposed by the Quartet on the Palestinian government.
Russia has criticised the economic embargo and is alone among the Quartet in having diplomatic ties with Hamas, which won elections in January last year but is considered a terrorist organisation in the West.
Meshaal's visit, his second to Moscow since those elections, comes amid growing differences within the Quartet on how to deal with the prospect of a Palestinian unity administration.
Both Israel and the United States oppose lifting the embargo unless the new government recognises Israel, renounces violence and agrees to stick by past peace agreements.
That opposition is likely to be reiterated during a visit to Moscow also on Monday by Israel's hardline Minister for Strategic Affairs Avigdor Lieberman.
Israeli Prime Minister Ehud Olmert spoke with Russian President Vladimir Putin by telephone after Meshaal's visit was announced.
"We don't think anyone should associate with Hamas and certainly not with Khaled Meshaal," Israeli government spokesman Miri Eisin said after the phone call