Leaders of the rival Hamas and Fatah groups were due to hold talks in Saudi Arabia on Tuesday aimed at ending factional warfare and forming a unity government that can end a crippling Western embargo.
Previous efforts to stem the bloodshed and find common political ground have resulted in short-lived ceasefires and in a threat by President Mahmoud Abbas of Fatah to call a new election -- which Hamas has said would be tantamount to a coup.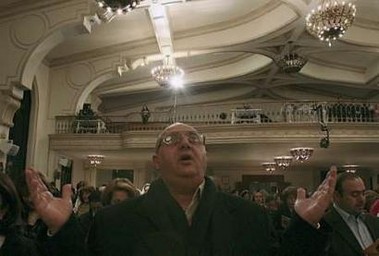 A Christian offers prayers for peace in Iraq, Palestine and Lebanon during a special mass in Amman January 23, 2007
Complicating the Saudi mediation efforts, Israel and the United States do not want Abbas to agree to a unity government that stops short of recognising the Jewish state, renouncing violence and abiding by interim peace deals.
"There may be obstacles but we confirm that we are going with true intentions to reach a Palestinian-Palestinian agreement that would end tensions and reinforce national unity," Prime Minister Ismail Haniyeh of Hamas said on Monday.
"We have no choice but to reach an agreement."
The deaths of three Palestinians on Monday from injuries suffered in factional fighting over the weekend raised to 90 the number of people killed in internal clashes since December, when Abbas raised the prospect of an early ballot.
Abbas will attend the negotiations in the holy city of Mecca along with Haniyeh and Damascus-based Hamas chief Khaled Meshaal.
Abbas, a moderate whose presidential guard receives training and non-lethal equipment from U.S. funds, said he would give talks one last chance to form a coalition government with Hamas.
Tensions have spiralled in the Gaza Strip since Hamas, an Islamist group whose charter calls for Israel's destruction, trounced Fatah in elections last year, prompting the West to suspend aid unless it moderates its stand.
The latest in a series of ceasefires appeared to be holding in the narrow, densely populated territory, where 1.5 million Palestinians live.
But after nightfall, gunmen in the northern Gaza town of Beit Hanoun stormed the local headquarters of Force 17, which is loyal to Fatah, and abducted six of its members, residents said.
Fatah officials blamed Hamas for the assault. Hamas declined to say whether it was holding the men but accused Force 17 of setting up a checkpoint in Beit Hanoun and trying to detain Hamas members.
While both sides had released some hostages taken during the fighting, officials said before the Force 17 incident that Hamas still held nine Fatah men while 32 members of Hamas remained in Fatah custody.
Failure to clinch an agreement in Mecca appeared certain to trigger more fighting on Gaza's still tense streets.