COLOMBO, April 15, 2009 (AFP) - Sri Lankan troops resumed their all-out offensive against Tamil Tiger rebels in the north of the island on Wednesday following a brief holiday ceasefire, officials said.
A military official said government forces were involved in "normal operations" aimed at finishing off the last of the separatist rebels.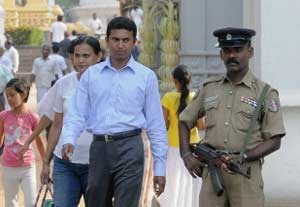 A Sri Lankan policeman stands guard outside a temple in the Bellanvila suburb of Colombo on April 15, 2009 (AFP photo)
The pro-rebel Tamilnet website said both sides fired rockets and exchanged gunfire as a two-day ceasefire -- called by President Mahinda Rajapakse to mark new year celebrations -- ended at midnight.
"Heavy exchange of rocket and gunfire was reported as the fighting intensified in the early hours of Wednesday," Tamilnet said.
The Liberation Tigers of Tamil Eelam (LTTE), once controlled around a third of the island, are now boxed into a narrow strip of jungle in the northeast where they are vastly outnumbered.
On Tuesday the rebels said they were ready to negotiate a permanent, internationally-backed ceasefire with the government and restart peace talks to end the suffering of civilians.
But the offer was quickly rejected by the government, with officials accusing the rebels of trying to buy time to regroup and president Rajapakse saying his troops were on the verge of total victory.
Military sources said Wednesday that government forces were still positioned around a government-designated "no-fire zone" for civilians to shelter, but had not entered that area.
They were also consolidating positions in recently captured areas, and on Tuesday recovered several surface to air missiles and hundreds of landmines stored by the rebels.
The army says LTTE forces have retreated to the safe zone, and are using tens of thousands of civilians as a human shield. It said there was no hoped-for exodus of civilians from the area during the brief ceasefire.
"The military did not notice an exodus of civilians from the conflict area," a military official said, adding that only 475 wounded civilians and their relatives were evacuated to safety by the International Red Cross on Tuesday.