Floodwaters engorged Australia's largest river on Wednesday, threatening more homes, as Prime Minister Julia Gillard called on Queen Elizabeth II to establish a new medal for disaster heroes.
The wall of water engulfing southeastern Victoria state swelled the Murray, a mighty river running 2,375 kilometres (1,475 miles) through three of Australia's seven territories, frustrating hopes it could be used as a buffer for threatened towns.
"We are cutting roads to try and take the water into different directions to the River Murray... But the Murray itself is coming up because of the recent floods on the Campaspe and the Goulburn (rivers)," said Max Fehring, mayor of Gunnawarra Shire Council.
"(It's) not coming up at a real great rate, but every time it comes up it gives us less opportunity to put water in the river, because of height levels," he told ABC Radio.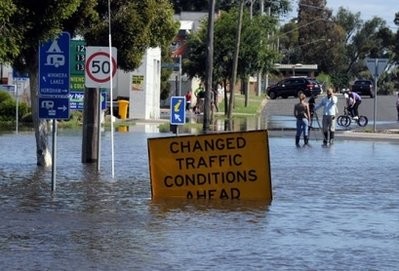 Rising flood waters start to engulf roads in the Victorian town of Horsham
The torrent has swept through 62 towns across one third of Victoria, which was devastated just two years ago by the country's worst ever wildfires that killed 175 people.
An area larger than France and Germany combined has already been ravaged by floods in Queensland state, killing 35 people and wreaking billions of dollars in damage, wrecking crops and mines in the key farming and resources state.
Tens of thousands of homes have been waterlogged, while roads, railways and bridges were swept away. Nine people are still missing.
Gillard visited the shattered Queensland town of Toowoomba on Wednesday to spend the national Australia Day holiday with grieving and shocked residents, and pay tribute to the army of volunteers helping with the clean-up.
"We are grieving the loss of life, but we are also celebrating tremendous community spirit, as people work together in the most difficult of times, in the darkest of hours," Gillard said.
The prime minister said she had asked Queen Elizabeth II, Australia's head of state, to approve a new "National Emergency Medal", to be awarded with other honours on Australia Day for extraordinary efforts during disasters.
The medal would be backdated to allow recognition of "selfless and courageous acts" from the 2008 Victorian bushfires and the current flooding crisis, she said.
"We will never forget those we have lost in this period, but we should also never forget the community spirit that has been shown, by strangers who have done courageous things to help each other as flood water has threatened," she said.
The government made a special plea for the nation to remember flood victims Wednesday, commending those who turned their Australia Day barbecues and parties into fundraising events.
More than Aus$170 million dollars ($170 million) has been raised in public donations so far, including Aus$3.1 million offered by the New Zealand government.