The leader of Hezbollah on Sunday defended the decision to bring down Lebanon's Western-backed government, saying the Shiite militant group did so without resorting to violence and will not be intimidated by world reaction.
In his first comments since the government collapse on Wednesday, Sheik Hassan Nasrallah also said his bloc will not support Saad Hariri returning to his post as prime minister in talks Monday on forming a new government.
"We carried out a constitutional, legal and democratic step to bring down the government. We did not use weapons," Nasrallah said in a televised speech. "We are not scared of speeches, statements or anyone's threats in this world."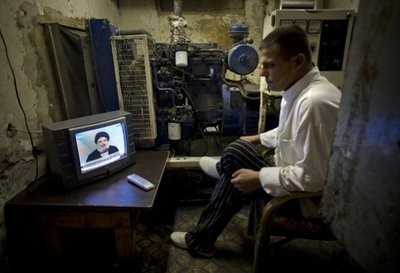 A man watches the speech of Hezbollah leader Hassan Nasrallah in Beirut, Lebanon, Sunday, Jan. 16, 2011.
Eleven ministers allied to Hezbollah resigned from the Cabinet on Wednesday, enough to force the government to fall.
The crisis is the climax of long-simmering tensions over the U.N. tribunal investigating the 2005 assassination of Hariri's father, former Prime Minister Rafik Hariri. The court is expected to indict members of Hezbollah, which could re-ignite hostilities between Lebanon's rival Shiite and Sunni Muslims. Rafik Hariri was a Sunni.
Hezbollah is Lebanon's most powerful military force, with an arsenal that far outweighs that of the national army.
Saad Hariri had refused Hezbollah's demands to cease cooperation with the court, prompting Wednesday's walkout.
Nasrallah's speech was seen as important sign of his movement's mindset at a time when many fear the country's political tension could descend into civil strife. His demeanor was calm and he emphasized that Hezbollah will work for change through democratic means.
The U.S. has denounced Hezbollah's walkout as a transparent effort to subvert justice.
"The tribunal is an independent, international judicial process whose work is not subject to political influence, either from inside Lebanon or from outside," U.S. Ambassador to Lebanon Maura Connelly said Sunday after meeting with Hariri. "The efforts by the Hezbollah-led coalition to collapse the Lebanese government only demonstrate their own fear and determination to undermine Lebanon's sovereignty and independence."
Since his ouster, Hariri has tried to rally international support in the U.S., France and Turkey.
The leaders of Turkey, Qatar and Syria will meet in the Syrian capital, Damascus, on Monday to discuss the political crisis, Turkey's Anatolia news agency reported.
Lengthy negotiations lie ahead between Lebanon's Western-backed blocs and the Hezbollah led-alliance. If those fail, Lebanon could see a resurgence of the street protests and violence that have bedeviled the country in the past.
Lebanese President Michel Suleiman will launch formal talks Monday on creating a new government, polling lawmakers on their choice before nominating a prime minister. According to Lebanon's power-sharing system, the president must be a Christian Maronite, the prime minister a Sunni and the parliament speaker a Shiite.
Each faith makes up about a third of Lebanon's population of 4 million.