The bomb killed two US Marines instantly, shredded their armour and flung body parts into a canal. A mission to open a supply line in Taliban country faced a hidden enemy at every turn.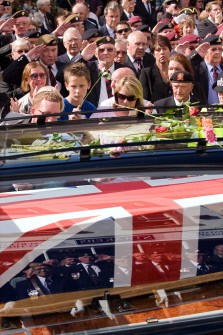 Former military personnel and mourners gather as a procession of hearses carrying the bodies of eight British soldiers killed in Afghanistan through the streets of Wootton Bassett, in Wiltshire, on July 14, 2009. (AFP Photo)
A foot patrol was advancing painstakingly with metal detectors and bare hands to defuse bombs planted on a rough track when an explosion shot a cloud of dust and rocks into the sky in southern Afghanistan's Helmand province at dusk.
"I turned away and felt rocks in the air as they came over my back," said Sergeant Anthony Zabala, 31. "That was it," he added.
The unit has been in Afghanistan only months, part of a surge of 21,000 extra US troops sent to quell a Taliban insurgency that is testing Western military endurance and shows signs of expanding beyond southern and eastern heartlands.
The two dead men had expressed frustration earlier in the day to an AFP reporter about the difficulties posed by so-called improvised explosive devices (IEDs), but seemed confident they could neutralise the threat.
"They have been placing IEDs all along this route. We were on alert that it was a dangerous place to work," said Zabala after Monday's bombing.
Years of Marine training and adrenaline kicked in. Helicopters landed, rotor blades roaring in the darkness to evacuate two wounded as Marines scoured the undergrowth, shouting out the names of two comrades who vanished.
Suddenly, someone found the plate of a flak jacket, flung 50 metres (55 yards) away on the far bank of the canal.
Marines, who quickly stripped off and waded waist-deep through thick reeds, shouted that they had found body parts in the water.
Body bags were brought up. The search continued through the night with divers flown in to dredge the canal, in some of the most dangerous terrain in Afghanistan and the heart of opium-growing territory.
The unit had left base camp at dawn last Wednesday to clear a 30-kilometre (19 mile) supply line to compatriots airlifted behind Taliban lines on July 2 at the start of one of the biggest offensives of the nearly eight-year war.
But an estimated 18-hour trip morphed into a week with no end in sight, forcing commanders to contemplate the quickest evacuation route.
In six days, the unit crawled just a handful of kilometres, bogged down by blasts and delayed by an ambush, advancing inch by inch across terrain mined intensively with the deadliest weapon known to insurgents -- the IED.
"Marines have met with some resistance, but the effort to provide security in population centres has been for the most part successful," said spokesman for the 2nd Marine Expeditionary Brigade, Lieutenant Abe Sipe.
July now threatens to be the deadliest month for Western forces in Afghanistan. At least 43 foreign troops have died so far this month, compared to two in Iraq, according to the independent www.icasualties.org website.
That puts the first two weeks of July on par with the deadliest ever month for Western forces in Afghanistan -- June and August 2008 when 46 died.
Some analysts now see Afghanistan, particularly Helmand, through the lens of Iraq -- so far a much deadlier war for the Americans but where a US surge and the wooing of Sunni tribes has significantly reduced violence.
"Most of the Al-Qaeda operatives fighting in Helmand are said to have come from Iraq or have experience fighting international forces in Iraq," said Waheed Mujda, an Afghan analyst familiar with Taliban activities.
There are around 7,000 foreign troops operating in Helmand -- 4,000 US Marines backed up by 650 Afghan forces in the south -- and 3,000 British troops with 500-600 Afghan troops further north.
General Moheedin Ghori, the top Afghan general in Helmand said the main reason for the surge in casualties was IEDs, which cost little to make and require few personnel to plant.
"There have been more mines buried deeper, which explode after several vehicles have passed. We call them pressure mines," he said.
The troops are weighed down by heavy equipment, wilting in scorching summer temperatures of up to 46 degrees Celsius (115 degrees Fahrenheit).
The British in particular have suffered heavy losses this month, pushing their death toll to 184 and surpassing the number who died in Iraq.
"Many insurgents have elected to stay and fight, and have heavily mined the area with IEDs," one NATO official told AFP on condition of anonymity.