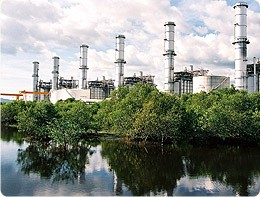 BG Power Plant in Philippines. The average industrial tariff in Philippines is 11 cents per kilowatt-hour, about double that of neighbors.
The high cost of electricity is driving away hundreds of foreign investors from the Philippines, leading to huge job losses and anemic economic growth, top private utility officials said Monday.
Industry leader Oscar Lopez urged the government to slash taxes and royalties, and to plan well ahead for the needs of the next generation despite overcapacity that he said has plagued the sector since 1999.
Despite surplus generating capacity, the average industrial tariff here is 11 cents per kilowatt-hour, about double that of neighbors and foreign direct investment (FDI) rivals Malaysia, Indonesia, Thailand and Viet Nam, he said.
Lopez, chief executive and chairman of Benpres Holdings Corp. said an outmoded royalties and tax regime kept power rates high and drives the industry toward imported energy supplies such as coal and oil.
"It's a major obstacle that holds us back from competing effectively with neighboring Asian countries for manufacturing jobs," he told the Foreign Correspondents Association here.
Benpres is the Lopez family's holding firm for generating and other assets that include top power distributor Manila Electric Co. (Meralco) and power plants, broadcasting, toll roads, construction, property and electronics.
Federico Lopez, president of unit First Gen Corp., said Meralco has lost betwen 400 and 500 industrial subscribers over the past year, which suggests manufacturers may be moving elsewhere "due to high power rates".