WASHINGTON, Nov 4, 2008 (AFP) - Americans emphatically elected Democrat Barack Obama as their first black president Tuesday, in a transformational election which will reshape US politics and the US role on the world stage.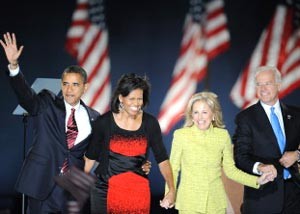 Democratic presidential candidate Barack Obama and his wife Michelle stand on stage with running mate Joe Biden and his wife Jill during their election night victory rally at Grant Park on November 4, 2008 in Chicago, Illinois. (Photo: AFP)
"Tonight, because of what we did on this day, in this election, at this defining moment, change has come to America," Obama told a euphoric 125,000 strong crowd of tearful supporters after defeating Republican John McCain.
Obama, 47, will be inaugurated the 44th US president on January 20, 2009, and inherit an economy mired in the worst financial crisis since the 1930s, two wars in Afghanistan and Iraq and a nuclear showdown with Iran.
"The road ahead will be long, our climb will be steep, we may not get there in one year or even one term, but America -- I have never been more hopeful than I am tonight that we will get there," Obama said in his hometown of Chicago.
"I promise you -- we as a people will get there."
Television networks projected Obama's win over McCain after Senator Obama solidified traditional Democratic states and cut deep into the Republican territory which his rival needed to control to win the White House.
Obama's win was greeted with euphoria across the United States and reverberated around the world.
New York's Times Square exploded in joy at a moment of healing for America's racial scars and a crowd gathered outside the White House.
Democrats also made ground in Congress, and will hold an unshakeable monopoly in power in Washington after a rare generational and political realignment.
McCain was gracious in defeat, and noted that his election was a moment to cherish for African Americans.
"The American people have spoken, and they have spoken clearly. A little while ago, I had the honor of calling Senator Barack Obama to congratulate him on being elected the next president of the country that we both love," he said.
"Though we fell short, the failure is mine, not yours," he told a crowd of supporters in Phoenix in his home state of Arizona.
President George W. Bush who has steered his country through eight turbulent years also congratulated Obama.
"Mr president-elect, congratulations to you," White House spokeswoman Dana Perino quoted the president as saying in a phone call to Obama.
"What an awesome night for you, your family and your supporters. Laura and I called to congratulate you and your good bride."
Obama's historic inauguration will complete a stunning ascent to the pinnacle of US and global politics from national obscurity just four years ago and close an eight year era of turbulence under President George W. Bush.
Forty-five years after civil rights icon Martin Luther King laid out his "dream" of racial equality, Obama's election broke new barriers and may have helped heal the moral wounds left by slavery and the US civil war.
When he launched his campaign on a chilly day in Illinois in February 2007, Obama forged a mantra of change which powered him throughout the longest, most costly US presidential campaign in history.
With a stunning grassroots political movement, powered by massive multi-million dollar fundraising, Obama first beat Hillary Clinton, and the Democratic Party's then preeminent political machine.
Obama strode towards victory on Tuesday by capturing the states of Pennsylvania, the key battleground which McCain needed to win to keep his long-shot hopes of victory alive.
In a sweet moment for Democrats, he also seized the midwestern battleground of Ohio and captured New Mexico and Iowa, two states won by Bush in 2004 to close out McCain's possible route towards the White House.
McCain had argued that Obama was too inexperienced to be US commander in chief and would pursue "socialist" redistribution policies that would leave the economy mired in recession.
McCain, 72, an Arizona senator, would have been the oldest man ever inaugurated for a first term in the White House.
Obama gave early notice of the way the night would unfold by capturing the key northeastern state of Pennsylvania -- McCain's best hope of winning a Democratic state and stopping his rival from claiming the White House.
He later added Ohio, the decisive state which swept President George W. Bush to victory in 2004 and another Republican state, Virginia, which had not voted Democrat since 1964.
He also won Florida, ground zero of the 2000 recount debacle and captured other Republican states including New Mexico and Iowa.
So far he had won 27 states including his home turf of Illinois for 338 electoral votes.
McCain had won 17 but had not broken out of the Republican heartland and the south.
In the Senate, Democrats wrested control of five Republican seats including in the traditionally Republican state of Virginia, followed by New Hampshire, North Carolina and New Mexico.
Republican Senate majority leader Mitch McConnell clung on in Kentucky, meaning Democrats were unlikely to win the 60 seats they need in the 100-seat chamber needed to frustrate Republican obstruction tactics.