A one-stop online resource hub providing comprehensive and easy-to-access HIV and AIDS data in the Asia-Pacific region was launched November 28.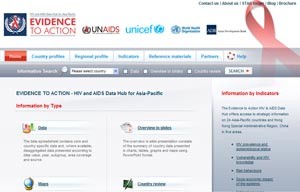 The homepage of the data hub
The Evidence to Action Initiative is a partnership between the Asian Development Bank (ADB), the UN Joint Program on AIDS (UNAIDS), the UN Children's Fund (UNICEF) and the World Health Organization.
It provides user-friendly data on most-at-risk population groups, women, children, and young people, disaggregated by age and sex. It also probes the provincial and district-level situation where data are available, and provides updates on the prevalence, behaviors and national responses.
The data hub is guided by a Science and Technical Advisory Group which met this week in Manila to discuss ways to use evidence and analyses for policy makers, researchers, and frontline workers to improve the prevention, care, and treatment of HIV and AIDS.
"This data hub initiative is important to help us understand the AIDS epidemic in Asia-Pacific, which can greatly facilitate decision-making by national leaders," Ursula Schaefer-Preuss, ADB's vice president for knowledge management and sustainable development, said in an announcement the bank issued the same day.
The recent Asia AIDS Commission report estimated at least 75 million Asian men buy sex regularly from about 10 million Asian women who sell sex. Male-male sex and drug injectors add another 20 million or more to the men at high risk of HIV infection.1
"The hub and all of the data help substantiate a major call by the Asia AIDS Commission to prioritize interventions on those most-at-risk, and achieve a high level of service coverage and behavioral change to halt the spread of HIV in the most cost-effective way," Prasada Rao, director of UNAIDS regional support team for Asia-Pacific, said in the ADB statement.
He also notes that HIV data collection has improved over the past decade. "But the system and capacity to analyze the information still pose a challenge to many countries in the region," he added.
UNICEF is managing the searchable online resource hub: www.aidsdatahub.org and an online dbase: www.devinfo.info/Evidencetoaction. The website carries multiple sources of data and reports, PowerPoint presentations and reviews on the HIV and AIDS situation in 24 countries and the Hong Kong Special Administrative Region.
Equipped with the latest HIV statistics, the hub's information comprises all of the internationally-accepted standardized indicators ranging from HIV prevalence and condom use rate to knowledge and country specific indicators.
Trend analysis and quality of data are assessed and monitored by the advisory group of 15 multi-disciplinary HIV and AIDS epidemiologists and public health experts, who also guide the hub's effort to harmonize data reporting, and support timely data update to track the epidemic and service coverage.