PORT-AU-PRINCE, Jan 13, 2010 (AFP) - Bereft, distraught and dazed Haitians flocked to the center of a ruined Port-au-Prince Wednesday night, turning a central square into an open-air refugee camp lacking water, food and medicine.
"Today Haiti has again become a nation that doesn't know happy endings," said Milien Roudy, lying in a park with his wife and two daughters.
The family had eaten nothing in the last 24 hours, like many of the thousands who gathered around the Champs de Mars square in the center of the capital.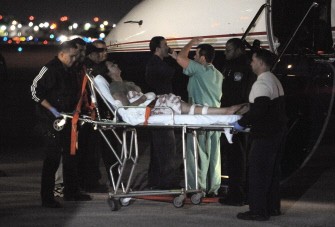 University of Miami students are flown in from Haiti a day after an earthquake caused major damage in the Caribbean nation, at Fort Lauderdale's Executive Airport on January 13, 2010 (AFP photo)
With their homes and lives destroyed, families prepared to spend a second night outside, many too scared to seek shelter in those structures still standing because of persistent, strong aftershocks.
Many laid covered in dirt, bearing visible wounds and sporting makeshift slings or bloodsoaked cotton taped hastily over fresh injuries.
Others pitched makeshift tents and then looked furtively to the skies for any sign that aid was arriving from the outside world.
United by tragedy, their stories were different but heartbreakingly similar.
Most stood in or near a building that collapsed without warning when the quake struck and then relied on the miracle of a friend or relative who could pull them to safety.
Alive, but only just, they waited Wednesday night to see what the international community would deliver.
"If the international community really wants to help Haiti, they should give the money directly to us and not to the government," said 21-year-old James, who shared a make-shift camp with 50 others.
But one person was missing, his six-year-old sister, who was buried under the rubble of the family home.
James, a student, said he had looted rice and water from a supermarket, which he carefully rationed out under the envious gaze of other families, who are spending a second night without food.
Standing by him, Clement, a public official, decried the lack of assistance.
"In over 24 hours, no one, not the UN or any authority has come to give us even a glass of water," he said.
The air over the avenue was thick with dust and the smell of urine, which only intensified in the heat as the hours passed.
With no access to clean water, many simply quenched their thirst by drinking dirty water from public fountains.
"Our souls are heavy. We don't know what to tell our children about what will happen tomorrow," said Marie Denise, a mother of four.
"No camps have been set up because help is late in coming and we are too scared to sleep in half-destroyed houses. If it rains, it will be terrible. We would have nowhere to go," said 30-year-old Clarisse, a nurse.
Up to 100,000 people may have been killed in Tuesday's massive 7.0 earthquake, according to some estimates.
Across the city, bodies lined streets, unclaimed and covered with cloth. Still other corpses could be glimpsed underneath rubble, dust-covered lifeless limbs protruding from twisted metal and crumbled concrete.
"There is no state to help us," said Laurent, a 22-year-old university student, pointing to the ruined presidential place and a string of destroyed ministries.
Fortune Mynusse, 75, sat among a group of older people that stared into the ever-growing crowd.
"When you see so many dead children you think that destiny is confused. It was more like our turn," she said.