TOKYO, July 29, 2009 (AFP) - Japan's number two automaker Honda Motor said Wednesday that its profits collapsed in the last quarter as the global economic downturn battered demand for cars in the United States and Europe.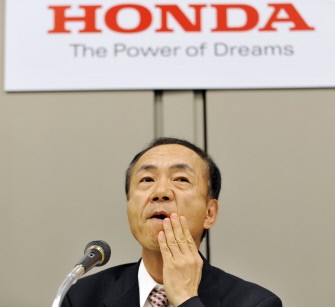 Japan's auto giant Honda Motor executive vice president Koichi Kondo gestures as he announces the company's first quarter financial results that ended June 30, at the company's headquarters in Tokyo on July 29, 2009 (AFP photo)
Honda said its net profit dived 95.6 percent in the fiscal first quarter through June from a year earlier to 7.56 billion yen (80 million dollars).
Revenue slid 30.2 percent to 2.0 trillion yen, weighed down by weak sales and a stronger yen.
The group sold 766,000 four-wheel vehicles in the three months to June, down from 962,000 in the same period of the previous year.
Despite the tough first quarter, Honda upgraded its outlook for the full year to March, forecasting a net profit of 55 billion yen -- down 59.9 percent from the previous year -- against an earlier goal of 40 billion yen.
Honda is seeking to accelerate the launch of its hybrid vehicles to ride a wave of interest in fuel-efficient cars, helped by government tax incentives.
Earlier this year the company rolled out a revamped model of its flagship fuel-sipping Insight, which was the best-selling hybrid in April in Japan before being overtaken by rival Toyota's remodelled Prius.
Japanese car makers have taken a heavy blow from the global economic downturn, which has caused sales to plunge.
Honda was the only one of Japan's top three automakers to post a profit for the last financial year to March, outperforming Toyota and Nissan which suffered heavy losses.