Honduras' military leadership defended its decision to force the ousted president into exile — a move the interim government has suggested was wrong even as it stands by the role of civilians in unseating President Manuel Zelaya.
Interim leaders insist Zelaya's ouster on June 28 was not a coup, saying he was voted out of office by Congress and soldiers who arrested him were obeying a Supreme Court order. However, interim President Roberto Micheletti has said the military's decision to fly him to Costa Rica instead of jailing him may have been mishandled.
The joint chiefs of staff insisted Tuesday that the military acted to save Honduras from dictatorship. Honduras' Supreme Court had ordered Zelaya's arrest on abuse of power charges for trying to hold a referendum on changing the constitution in defiance of court rulings declaring the vote illegal.
"What the armed forces did on June 28 was the defense and survival of the state, which was under threat," Rear Adm. Juan Pablo Rodriguez said on "Face to Face," a show on local Channel 5 television. He was accompanied by military chief Gen. Romeo Vasquez and two other generals.
Zelaya's opponents say he was trying to change the constitution to abolish term limits and extend his rule, as his ally Hugo Chavez has done in Venezuela. Zelaya denies that was his intention.
"The military stopped an expansionist plan" to impose "socialism disguised as democracy," army chief Gen. Miguel Angel Garcia said.
Vasquez, however, suggested the military would not stand in the way if Zelaya returns to power under an internationally mediated agreement. Costa Rican President Oscar Arias has been trying to persuade the Micheletti government to accept a compromise, but talks have stalled.
"The military will respect whatever solution is reached under the mediation of President Oscar Arias," Vasquez said.
Micheletti's government has defied worldwide demands to restore Zelaya to office.
Despite the suspension of millions of dollars of U.S. aid and the threat of more sanctions, interim leaders have made clear they expect to hold out until November presidential elections, when they hope international demands to restore Zelaya will fade. The ousted leader's constitutional term ends Jan. 27.
Several politicians and business leaders who support the Micheletti government have echoed the view that the military may have made a mistake to force Zelaya into exile.
"I didn't think it was right that they took the president to Costa Rica," Adolfo Facusse, the head of Honduras' National Association of Industries, told The Associated Press. "As a sector of civil society, we have called for the courts to judge the military because the order was to arrest him."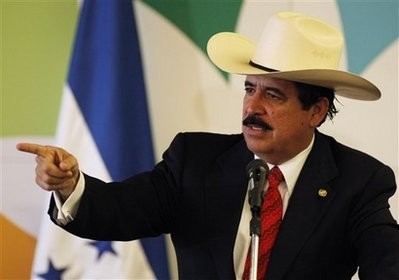 The ousted President of Honduras, Manuel Zelaya, gestures during a news conference in Mexico City
"They should justify it," he said.
Zelaya, meanwhile, reiterated a call for tougher U.S. sanctions, saying the interim government would "last five minutes" if the United States imposed trade restrictions. The U.S. is Honduras' largest trade partner and its biggest source of direct foreign investment.
"The United States has taken action ... but apparently it's not enough," Zelaya said during a visit to Mexico, where he was warmly greeted by President Felipe Calderon.
Zelaya said he would travel to Brazil next week, continuing a Latin American tour designed to underline his international support.
The Organization of American States plans to meet Wednesday to organize a high-ranking diplomatic mission that would travel to Honduras in a new effort to pressure coup-installed leaders to restore Zelaya.