Honduran lawmakers rejected the reinstatement of ousted President Manuel Zelaya during a heated debate which revisited details of the June 28 coup which polarized the nation.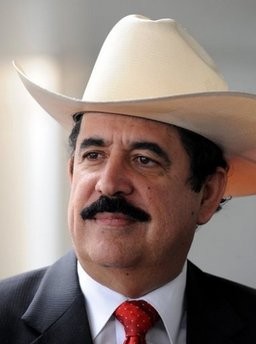 Honduras' ousted President Manuel Zelaya (AFP)
A simple majority of 65 lawmakers in the 128-member body had voted against Zelaya's return to the presidency shortly before 730 pm (0130 GMT), after more than six hours of debate.
The decision came amid pressure to resolve the five-month crisis, and after many Latin American governments warned they would not restore broken ties unless Zelaya was allowed to finish his term, which ends January 27.
The vote, however, put an end to a US-brokered crisis deal between Zelaya and de facto leader Roberto Micheletti, who took over after the coup.
Micheletti, who stepped down briefly over the elections, said before the vote that Zelaya was "history."
As the political drama played out in the Congress, dozens of security forces faced off outside with backers of Zelaya, who has been holed up in the Brazilian embassy since returning in September.
Despite angry speeches from several deputies who slammed both the coup and a military crackdown which followed, only nine lawmakers had backed Zelaya's return when the majority against it was reached.
The same Congress, along with the Supreme Court, business leaders and the military, had backed Zelaya's expulsion over his plans to change the constitution, which they saw as a bid to undo term limits.
Lawmakers had received advice from the attorney general and the Supreme Court, which has said that criminal charges against Zelaya still stand.
"As far as I know, the Congress does not have the capacity to make this decision," Zelaya told local Radio Globo ahead of the vote.
Zelaya had suggested that he would not resume the presidency even if Congress voted him back in, saying a US pact which left the decision to Congress had failed.
Divisions in the Central American nation have remained wide since controversial weekend elections held under the de facto regime, in which conservative Porfirio Lobo claimed a solid victory.
Lobo, who backed the coup, has vowed to work for national reconciliation.
His National Party, with 55 seats in Congress, voted against Zelaya's return.
Lobo, who lost to Zelaya in 2005 elections, has not spoken out on the issue, prefering to leave the decision to Congress.
Zelaya suffered from splits within his Liberal Party which has a majority in Congress but is deeply divided over his swing to the left under the influence of Venezuelan President Hugo Chavez.
The United States, a key business partner and donor, and the European Union, also a key donor, said they saw the weekend polls as an important first step forward out of the crisis, but many in Latin America, starting with powerhouse Brazil, said they served to whitewash the coup.
Rights groups said the elections were marred by the lack of international consensus, and slammed a military crackdown on journalists and activists since the coup.