Voters are cast their ballots during Sunday's elections in Hoduras almost six months after President Manuel Zelaya was ousted and flown out of the country.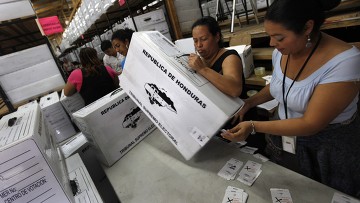 Election workers count votes
It is unclear whether the elections, scheduled long before the coup, will be recognized by the international community. The polls were already declared illegitimate by Brazil, Venezuela, Argentina, Ecuador and Nicaragua
The U.S., Peru, Panama and Costa Rica are set to recognize the results.
The Deputy Director of Latin America Instutute of the Russian Academy of Sciences, Vladimir Sudarev, told RIA Novosti that that the situation in the country might lead to "a kind of a breakup in the region."
"The elections raise numerous questions," he said. "I do not rule out that they might be transparent, without any massive frauds, but, essentially, holding elections under the present circumstances is not quite in line with the constitution and [is not] correct from the legislative point of view."
"It is hard to say what the turnout will be and what incidents might take place during the elections," Sudarev added.
Zelaya supporters have openly vowed to disrupt the vote because the leading candidates, Porfirio Lobo and Elvin Santos, belong to the two main parties that voted overwhelmingly in Congress to support Zelaya's ouster.
Sudarev added that the two frontrunners were "almost alike" and the voters had no real choice among "the right and the left, radicals and so on."
The de facto government maintains that the elections are the only way to overcome the political crisis. Neither the deposed president, Manuel Zelaya, nor the interim leader, Roberto Micheletti, will take part.
Security in the country has been stepped up at 5,248 voting amid reports of multiple attacks with explosive devices on institutions and media outlets from both sides of the conflict in the past weeks.
Some 3,000 Honduran and over 300 international observers will monitor the polls. International monitors will include EU observers, U.S. representatives of the Democrat and Republican parties and Organization of American States officials. A government delegation from Panama is also due to monitor the polls.
Along with the president, the voters will also choose three vice presidents, 128 lawmakers and 298 mayors. Up to 4.6 million people are entitled to cast their ballot.
Zelaya, who lost his presidential post as a result of a military coup on June 28 and flown to Costa Rica, called on his supporters to boycott the elections.
He was bundled out of Honduras by the military, acting on instructions from the Supreme Court and parliament, over efforts to seek an unconstitutional second presidential term. He returned to the country on September 21 and took refuge in the Brazilian Embassy.