Hopes rose Wednesday for dialogue between deposed Honduras President Manuel Zelaya and the regime that ousted him, as did pressure for the removal of widely-criticized restrictions on civil rights.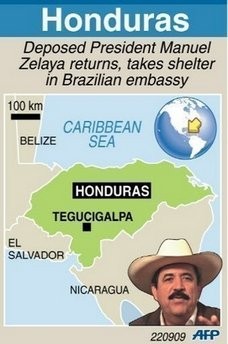 Map of Honduras showing the capital Tegucigalpa. (AFP Photo)
Honduran police detained dozens of supporters of Zelaya -- who is holed up in the Brazilian embassy -- despite promises from the de facto regime to reverse a decree imposing restrictions on civil rights that even backers of the June 28 coup oppose.
The country's Supreme Electoral Tribunal on Wednesday joined the Congress in calling on Micheletti to revoke the decree suspending rights of assembly and speech, expressing concern that it would derail November elections.
Costa Rican President Oscar Arias, the previous mediator in the crisis, has appealed to the international community to help the elections take place as a possible exit to the three-month stalemate.
Supreme Court magistrate David Matamoros said the decree had to be lifted "so there will be no doubt, no questioning about the legitimacy of the elections."
Micheletti, increasingly backed into a corner, told journalists the decree would be revoked "when we have a consensus with all sectors."
The San Jose accord proposed by Arias, which both sides previously rejected and are now seeking to adapt, calls for Zelaya's return to office followed by presidential elections.
Zelaya was ousted by the military after riling the country's political and business leaders by calling for a referendum to change the constitution, which many saw as a bid to scrap term limits.
His surprise return September 21 has raised tensions, although a top official from the Organization of American States on Wednesday said dialogue between Zelaya and the de facto regime could start next week.
"Things are very positive," John Biehl, a special representative for OAS chief Jose Miguel Insulza, told journalists here on Wednesday.
"Dialogue will probably start when the foreign ministers are here," said Biehl, referring to an OAS mission including Insulza and regional foreign ministers due to arrive in Honduras on October 7.
The assistant bishop of Tegucigalpa, Juan Jose Pineda, said he had seen "an approach toward dialogue" from both sides, and a top army chief behind the coup was also upbeat about a possible solution on Tuesday.
Several business leaders have said for the first time that they would accept Zelaya's return to the presidency, but only if his powers were restricted, he responded to the charges against him, and a multinational force oversaw a handover from Micheletti.
The crackdown on pro-Zelaya supporters, meanwhile, continued.
Riot police at dawn surrounded the National Institute of Agrarian Reform (INRA) -- where farm workers from across Honduras had been camping out to attend protests -- and detained 55 people, police said.
"Anything can happen at the moment. It's a dictatorial regime," said Rafael Alegria, a farm workers' leader.
Micheletti's regime on Monday shut two dissident media stations and threatened to close the Brazilian embassy if Brazil failed to meet a 10-day deadline to handover Zelaya or give him asylum.
Several hundred pro-Zelaya supporters on Wednesday protested in front of one of the closed media stations, shouting "We love radio Globo!", surrounded by anti-riot police and soldiers.
Journalists gathered near the presidential palace holding banners asking the de facto leaders to reopen the closed stations and return equipment confiscated by police.
UN Secretary General Ban Ki-moon has called for a lifting of the clampdown and said threats on the Brazilian embassy were "unacceptable."
US Republican congresswoman Ileana Ros-Lehtinen said Wednesday she would travel to Honduras next week to meet with members of the regime, of which she has been a strong supporter.
The de facto leaders are seeking to arrest Zelaya, who veered to the left after his election and forged an alliance with Venezuelan President Hugo Chavez, on charges of treason and abuse of authority.