Newly elected Honduran president Porfirio Lobo faced the challenge Monday of convincing of the world that his election was legitimate.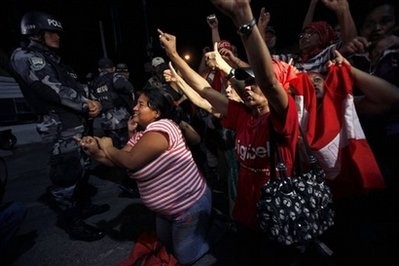 Supporters of Honduras' ousted President Manuel Zelaya protest near the Brazilian embassy in Tegucigalpa, Monday, Nov. 30, 2009. (AFP Photo)
Lobo became the third leader at play in the deep turmoil set off by the June 28 coup after claiming victory in Sunday's elections, which took place under a de facto regime criticized for its heavy-handed control of dissent.
Zelaya, who has been holed up in the Brazilian embassy since secretly returning in September, had called for a boycott of the polls which he said would legitimize the coup.
His rival, de facto leader Roberto Micheletti, hailed the elections, in which neither Zelaya nor Micheletti took part, and officials were quick to claim the vote a success.
The international community, which was once united in condemnation of the coup, was deeply split over how to react to the poll result.
The United States, the country's main trade partner, underlined its support for the elections but said much more was needed to overcome the crisis.
"It's a significant step for Honduras to go back to order but it's just that. It's only a step and it's not the last step... It's not sufficient," US assistant secretary of state for Western Hemisphere Affairs, Arturo Valenzuela.
Peru, Panama, Colombia and Costa Rica, which mediated first crisis talks, have already said they would support the elections.
But Argentina, Brazil, Venezuela and other leftist governments in the region have said they will not recognize the result.
Zelaya allied with Venezuelan President Hugo Chavez after taking office.
It looked unlikely that leaders meeting at a Latin American and Iberian summit in Portugal on Monday would manage to reach a consensus and countries from the European Union, a main donor to Honduras, were also set to discuss the issue.
Spain's Foreign Minister Miguel Angel Moratinos said while his government did not recognize the elections "neither can we ignore them" and called for national reconciliation.
Speaking at the same venue, Cuba's Foreign Minister Bruno Rodriguez denounced what he called a "spurious government" and accused the US of supporting a dictatorship.
The division puts in danger US President Barack Obama's attempts for a fresh start with Latin America after a painful history of US intervention.
Lobo, who lost to Zelaya in 2005 presidential polls, vowed to launch a national dialogue, form a unity government and woo back much-needed foreign investment.
He has not ruled out talking to Zelaya, who was ousted after critics said he acted against the constitution and tried to illegally extend term limits.
"If he (Lobo) doesn't strike some kind of compromise with Zelaya, he remains illegitimate in the eyes of most of the region's leaders -- with the Brazil the key actor here," Latin America analyst Dan Hellinger, from Webster University, told AFP.
Lobo led with 55.9 percent of the vote, electoral officials said late Sunday, after more than 60 percent of ballots were counted.
Shortly afterwards, his main rival, Elvin Santos, who garnered around 38 percent of votes and is from the divided Liberal Party of both Zelaya and Micheletti, conceded defeat.
Zelaya accused electoral officials of inflating first estimates of turnout, which were more than 60 percent.
Even if more countries say they'll recognize the polls, it was as yet unclear who would hand over power to the new president, with the crisis far from over in Honduras.
Congress is to vote on Zelaya's brief reinstatement -- before his term runs out in January -- on Wednesday, when Micheletti has said he will return to the de facto leadership until Lobo is sworn in as president.
Rights groups said the elections were marred by the lack of international consensus, and slammed a military crackdown on dissent since the coup.
Security forces in the northern city of San Pedro Sula fired tear gas and water cannon to disperse hundreds of Zelaya supporters who were protesting during polling Sunday. Journalists and activists said dozens were detained and injured.