Hong Kong battened down on Thursday, suspending financial markets, schools and transport services as hurricane-force winds from the deadly typhoon Nesat buffeted parts of the territory.
The Hong Kong Observatory issued a number eight tropical cyclone warning at 4.40 am (1640 GMT) and winds gusting up to 160 kilometres (100 miles) an hour were recorded in some exposed areas.
The high winds felled trees and kept most businesses closed, leaving the city's normally bustling central business district eerily quiet during morning rush hour, with only a few people struggling to work on foot.
At least three people were injured -- two when a piece of scaffolding hit a taxi and another struck by a falling tree, according to public broadcaster RTHK.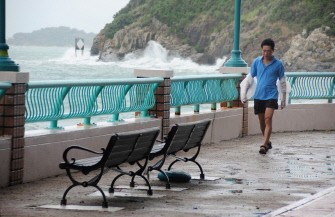 A resident walks along an oceanside prominade as waves caused by nearby Typhoon Nesat crash against the coast in Hong Kong on September 29, 2011
About 50 people were evacuated from their flats after a barge slipped its moorings and crashed into nearby railings, the broadcaster said. The government has opened typhoon shelters for people who want to seek refuge.
Financial markets, courts, schools and government buildings are all closed during a number eight warning, and ferry services suspended.
Hong Kong, a major shipping hub, also suspended port services. At least 38 flights at the Hong Kong International Airport were delayed as of 10:00 am (0200 GMT), a spokesman from the airport authority told AFP, and the city's huge fleet of public buses was brought to a near-standstill.
Weather forecasters said the typhoon was heading toward China's Hainan Island, and there were no predictions the situation would worsen in the territory.
In the observatory's typhoon warning scale, signal number 10 is the highest signal, indicating a direct hit.
Weather officials said the typhoon was centred about 350 kilometres (220 miles) south-southwest of Hong Kong and was expected to move across the northern part of the South China Sea towards Hainan to western Guangdong.
"According to the present forecast track, Nesat will be closest to Hong Kong this morning, passing around 350 kilometres south-southwest of Hong Kong," the observatory said in a statement.
"High winds are expected to persist this morning and there will also be squally showers. The number 8 gale or storm signal will remain in force for most of the morning," it added.
Tens of thousands of people in the Philippines were battling neck-deep floodwaters after Typhoon Nesat claimed at least 35 lives, and authorities said the toll was likely to rise.
Nesat smashed into the Philippines' main island of Luzon on Tuesday, bringing heavy rains and wind that caused storm surges and massive flooding.
The number eight warning is the highest storm signal raised by Hong Kong this year, after last year's deadly Typhoon Megi did not hit the southern Chinese city as predicted.