Two more Hong Kong children have fallen ill after eating Chinese-made products tainted with melamine, authorities said, as high levels of the toxic chemical were found in fish feed.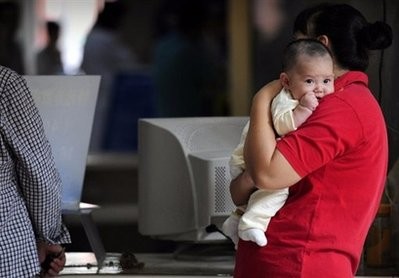 A mother holds her baby at a children's hospital in Beijing during the height of the toxic milk scare in late September. Two children in Hong Kong have fallen ill after eating Chinese-made products tainted with melamine, authorities have said.(AFP/File/Peter Parks)
The two girls, both aged four, were found to be suffering from kidney stones. They had a history of eating Chinese-made milk products and biscuits, Hong Kong's Centre for Health Protection said.
"The products concerned were earlier found by the Centre for Food Safety to have been adulterated with melamine, a chemical that can cause kidney stones leading to renal failure," said the statement, issued Wednesday.
Melamine is at the centre of a major contamination scandal that has already cost the lives of four babies and sickened 53,000 children in China.
The latest cases in Hong Kong bring the number of children sickened in the territory since the scandal was revealed in September to 12. The two children had no previous history of renal problems.
Meanwhile the Centre for Food Safety (CFS) said unsafe levels of melamine had been found in Chinese-made fish feed used at a farm in Hong Kong.
The centre said the level detected was 6.6 parts per million. Hong Kong limits concentration to 2.5 parts per million.
"According to the fish farmer, the feed in question... was sourced in the mainland and delivered to Hong Kong by himself," a CFS spokesman said in a statement late Tuesday.
The discovery led to testing of fish from several farms across Hong Kong, but none was found to contain dangerous levels of the chemical, the statement said.
Fish feed is the latest product to test positive for melamine after it was found in mainland eggs sold in Hong Kong, causing concern over how far the chemical has infiltrated the food chain.
The chemical is normally used to make plastics but some mainland farmers have been using it to bulk out food products to make it appear as though they contain more protein.