Chicago, Rio, Tokyo and Madrid, the four cities hoping to host the 2016 Olympics, indulged in a hectic final day of lobbying Thursday, one day ahead of the International Olympic Committee vote.
While Chicago had Michelle Obama and President Barack Obama's special advisor Valerie Jarrett pressing the flesh, Rio turned to their charismatic president Luiz Inacio 'Lula' da Silva.
Madrid tried to defy their position as rank outsiders by sending into the fray Prime Minister Jose Luis Rodriguez Zapatero and King Juan Carlos in a desperate last-ditch bid for the coveted prize. Related article: Playing Olympic politics
Dark horses Tokyo were the odd ones out as they awaited the arrival of their newly-elected Prime Minister Yukio Hatoyama, who left for Copenhagen late on Thursday.
Instead they relied in terms of heavyweight political muscle on maverick Tokyo governor Shintaro Ishihara to persuade wavering IOC voters to give them their second Olympics.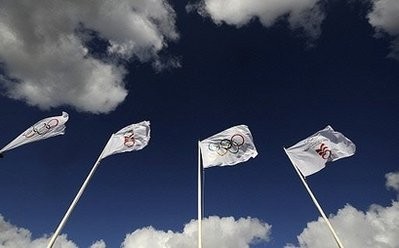 Olympic flags at the Bella Center in Copenhagen. Chicago, Rio, Tokyo and Madrid.
Jarrett, who was handed the responsibility taking charge of the first ever White House Office for Olympic, Paralympic and Youth Sport, told AFP that the President, who flies in on Friday morning for the presentation, saw the Olympics as a vital part of his diplomatic strategy.
"This (the bid and winning it) is very important to them (Obama and First Lady who is Chicago born and bred)," said 52-year-old Jarrett.
"But not just for Chicago and the United States. This to them is about diplomacy and reaching out to the world.
"They are committed to diplomacy and bringing together diverse communities and what better way of achieving that than through the Olympic Games," added Jarrett.
However, one cloud on the Chicago team's horizon was the small but determined anti-bid group 'No Games', led by grandmother and former teacher Rhoda Whitehorse, which is hoping to make its presence felt at the Bella Conference Center on Friday.
Lula, who has been at the forefront of promoting Rio's bid to become the first South American city to host the Olympics, compared Rio's rise to his ascent from humble origins to his country's presidency.
"Brazil has much more self esteem today, the country is experiencing a magical moment - even in this global crisis Brazil is better situated than better developed countries," said the 63-year-old.
Madrid's bid has taken a recent battering, hence their odds generally of 16/1.
But Zapatero was in confident mood when he addressed the press, rather more so than when he told Spanish radio earlier this week that the bid was in difficulty.
"I arrived last night (Wednesday) and after my contacts (with the IOC) today I'm now fully immersed and a lot more optimistic than I was on Wednesday," he said.
Ishihara was probably the most colourful of the politicians campaigning on Thursday.
His past acheivements have included being an award-winning novelist at 22 and an acclaimed writer of musicals, once even adapting Robert Louis Stevenson's 'Treasure Island'.
"It is the moment of truth," said the 77-year-old former Minister for Transport and Governor since 1999.
"We have done our utmost efforts. The strongest pillar of it is found in (IOC president) Rogge's comment that the Games are for athletes. We have the best conditions for athletes."