PADANG, Indonesia (AFP) – Rescuers held out scant hope of finding more Indonesian quake survivors on Sunday, leaving clean-up teams the grim task of retrieving the decaying bodies of thousands of victims from the rubble.
The military and medics pushed deeper into rural areas where whole villages have been buried by landslides, and more international rescue teams arrived with sniffer dogs and specialist equipment.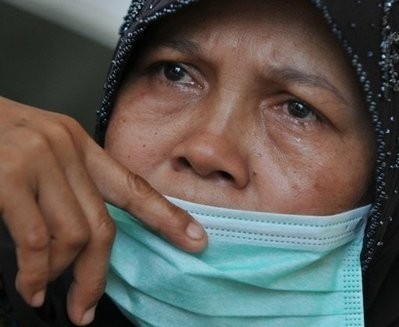 An Indonesian woman cries after hearing that her relative died in last month's devastating earthquake (AFP photo)
But they said there was little likelihood of plucking people out alive from the wreckage of the 7.6-magnitude quake which struck on Wednesday.
In the worst-hit city of Padang, heavy excavators moved over the crumpled remains of the Ambacang hotel, where hopes had been raised for survivors after police received a SMS phone message believed to be from someone inside.
"I think the chances of finding survivors are very slim," the team leader of Newmont Emergency Rescue Team, Samsubin, told AFP at the scene of the ruined Dutch colonial-era hotel.
"We are taking an aggressive approach today to remove about 140 bodies that we believe are buried near the swimming pool." Related article: Asian armies to the rescue
Jack hammers and other heavy cutting machinery were deployed on the huge pile of concrete, metal rods and debris which has drawn large crowds despite the clouds of dust and sickening smell of decomposition.
"What rescuers say is that the worst bit is that they're finding a finger or hand here, a foot there, and they're trying to piece people together," said the head of the International Federation of the Red Cross in Indonesia, Bob McKerrow. Related article: Indonesia's unlucky president
Estimates by the government and international agencies for the number of dead or buried range from 3,000-4,000.
"The number of people who died is 551 now, but it could reach 3,000," Health Minister Siti Fadilah Supari told AFP Sunday. "We'll have more solid figures in three to four days' time."
Outside Padang, the scale of the disaster is only now being discovered. Desperate villagers complained to AFP reporters they were being neglected while the focus remained on the city.
Whole hillside villages were found obliterated after giant landslides buried houses and hundreds of people, including an entire wedding party of 30 people swept away in an avalanche of mud and rock.
"Today the military will be heading to landslide areas which we have not been able to access earlier because roads are closed and broken," Indonesian military spokesman Sagom Tamboen told AFP.
The mayor of Padang, Fauzi Bahar, said that only 60 percent of the disaster zone had been accessed by emergency teams, and that more heavy machinery and materials to rebuild houses were urgently needed.
He said people were "traumatised" in his city, the capital of West Sumatra, which now faces a colossal rebuilding task.
Anger about poor construction and lax enforcement of building regulations is beginning to surface as people recover from the shock of the disaster.
"The government must introduce new standards when rebuilding the city," said Irwadi, a fisheries ministry official waiting outside the Ambacang hotel for news of colleagues who had been meeting there when the quake hit.
"They must only approve permits for buildings that are strong and only use quality building materials."
Countries from around the world have rushed aid and rescue teams to the scene and international aid groups are ramping up efforts to provide housing, medical services and basics such as food and water.
Teams from Australia, Britain, Japan, Russia, Singapore, South Korea, Turkey, the United Arab Emirates, Qatar and the United States have arrived or are travelling to the scene to help overwhelmed and exhausted locals.
The quake struck off Sumatra's west coast northwest of Padang on Wednesday on a major fault-line on the volatile "Ring of Fire" that scientists have long warned was a disaster waiting to happen.
Another 5.5-magnitude earthquake rocked Indonesia on Sunday, in West Papua province which is in the far east of the sprawling archipelago about 3,500 kilometres (2,200 miles) from the Sumatra quake disaster zone.
Authorities said there were no reports of injuries there.