Rescuers in Indonesia continued to search Saturday as hopes faded for dozens of people missing after a major 7.0-magnitude earthquake, an official said.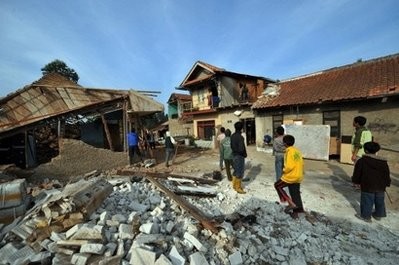 Houses damaged in the recent Pengalengan earthquake seen on September 4. (AFP Photo)
The quake, which struck off the south coast of Java on Wednesday, triggered a landslide that buried dozens of people in the village Cikangkareng, 130 kilometres (80 miles) south of Jakarta.
"The quake has killed at least 65 people. The search for dozens of victims continues although their chance of survival is slim," disaster management agency spokesman Priyadi Kardono said.
"Sometimes the heavy machinery is not enough to help as rescue workers have to carefully lift the bodies," he said.
The quake, which damaged more than 31,000 houses across the densely-populated island of Java, was also felt in neighbouring Bali and Sumatra.
Kardono said that about 27,000 people had been evacuated.
Many victims have complained at the slow arrival of sufficient tents, food and medical supplies following the disaster.
Indonesia sits on the so-called Pacific Ring of Fire, where several tectonic plates converge.
A 7.7-magnitude quake triggered a tsunami off southern Java in 2006, killing 596 people and displacing about 74,000.
A massive quake off the coast of the island of Sumatra in 2004 triggered a catastrophic tsunami that killed more than 200,000 people around Asia, including 168,000 in Indonesia.