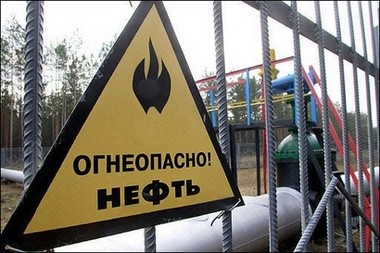 A discharge valve of the Druzhba oil pipeline is seen behind a fence in the village of Romanovka in the Mozyr's region of Belarus (AFP Photo)
Hopes for resolving an oil dispute between Russia and Belarus rose after Minsk cancelled an exceptional tariff on crude shipments through a vital pipeline to western Europe.
Russia's ambassador to the European Union (EU), Vladimir Chizhov, said later that it was only "a question of a few hours" before oil shipments would began flowing again through the Druzhba (Friendship) pipeline.
The spat has disrupted oil supplies to five EU countries and increased fears over dependency on Russian energy sources.
"The tariff on oil transit has been cancelled," Alexander Timoshenko, a spokesman for Belarussian Prime Minister Sergei Sidorsky, told AFP. Russian officials had set scrapping of the fee as a key condition for talks on a range of oil issues.
"We are pleased with the decision to cancel the transit tariffs, which we believe were introduced illegally," Russia's Deputy Economy Minister Andrei Sharonov replied in televised comments.
In Brussels, Chizhov told media: "As things stand at this point in time, I can say that the issue has been resolved."
He said pipeline crews would need a few hours to resume operations.
The Druzhba pipeline accounts for around a third of Russian oil exports and 12.5 percent of total EU oil consumption. The halt in supplies has affected the Czech Republic, Germany, Hungary, Poland and Slovakia.
The EU depends on Russia for a quarter of its oil and European leaders reacted angrily to the effects of the dispute between Russia and Belarus, two former Soviet states that have otherwise maintained generally good relations.
European Commission chief Jose Manuel Barroso called the disruption "unacceptable" and warned that it had hurt the credibility of both countries.
"The damage is done," he said, adding that European countries still sought to buy Russian oil but under secure conditions.
On Tuesday, German Chancellor Angela Merkel had warned Moscow that cutting oil deliveries destroyed confidence in Moscow's reliability as an energy partner.
The crisis began Monday when supplies through the pipeline were interrupted.
Russian Energy Minister Viktor Khristenko said Moscow was forced to halt shipments because Belarus was preventing the oil from crossing its territory.
That row broke out after Russia more than doubled the price of natural gas to Belarus and imposed new export taxes on oil sold to its western neighbor.
Belarus retaliated against the January 1 tariff by imposing its own transit fee on Russian oil passing westward.
With supplies to European countries affected, the dispute quickly took on a wider international aspect.
Russian and Belarussian officials have also been invited to an emergency meeting of EU energy experts on Thursday in Brussels which EU Energy Commissioner Andris Piebalgs called to analyze what went wrong.
"It is very important to get assurances that (such disruptions) will not happen again," Piebalgs said.
The EU commission released Wednesday a sweeping energy policy review that had been under preparation for some time and which called in particular for the 27-nation bloc's sources to be diversified.
Meanwhile, an oil official in Belarus did not guarantee that supplies would be running again soon.
"We expect a resumption of supplies after the successful completion of negotiations," said Yury Skrebnev, a spokesman for Gomeltransneft, operator of the Belarussian section of the Druzhba pipeline.
Russian officials have said Moscow will now seek alternative oil export routes by rail and sea transport, as well as through a pipeline to Asian markets that is under construction.
Russia is the world's second-biggest oil exporter after Saudi Arabia and its economy is heavily dependent on energy exports.