They may drown out conversation but the World Cup vuvuzelas have created a new common language in multilingual South Africa, according to the man who mass-marketed the deafening plastic horns.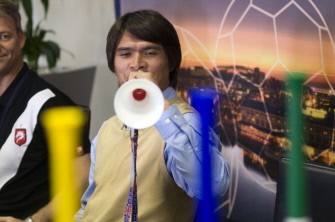 Niel Van Schalkwyk, the so-called inventor of South Africa's Vuvuzelas, holds a vuvuzela in England colours during a press conference, on June 18, 2010 at the V&A Waterfront in Cape Town.
Neil van Schalkwyk said Friday that the first commercial vuvuzelas, the must-have accessory at the football World Cup, had to be handed out for free at local football matches in South Africa 10 years ago.
"We started out with about 500 units that we sold in the first year. To create an initial interest, we needed to hand out some," he told reporters.
Van Schalkwyk's Cape Town company now holds 25 percent of the vuvuzela market in South Africa after snapping up a first bulk order for 20,000 in 2002.
An estimated two million vuvuzelas are in circulation in South Africa with Van Schalkwyk's company turning over between six and seven million rands (925,000 dollars, 750,000 euros) in the last 10 years.
The instrument has drawn fierce criticism for drowning out fans singing in stadiums, hindering communication between coaches and teams, and for dominating television coverage. Experts also say it can cause permanent damage to hearing.
But Van Schalkwyk said the vuvuzela had broken down the language barrier in a country with 11 official languages, adding that it was now part an integral part of football in South Africa, as singing was elsewhere.
"Out of respect for the way that we celebrate footballl, I think people should also take that into consideration," he said.
"We've got a multi-cultural society in South Africa and we've got 11 different languages. But there's one language they do understand: it's the 12th language of the vuvuzela."
A new lower noise horn, which is 13 decibels lower than the standard vuvuzela which measures 134 and 140 decibels, and which will break apart into three pieces if used as a weapon, said Van Schalkwyk.