JAKARTA, Aug 8, 2009 (AFP) - A house belonging to Indonesian President Susilo Bambang Yudhoyono was the intended target of two would-be suicide bombers who were killed Saturday outside Jakarta, the police chief said.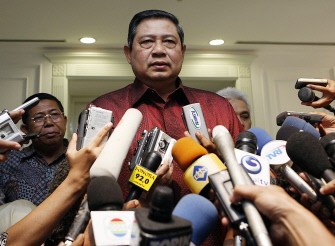 Indonesian President Susilo Bambang Yudhoyono (C) speaks to journalists during a press conference at the presidential palace in Jakarta on August 8, 2009. Yudhoyono thanked police for their brilliant job in raiding Noordin Mohammed Top (AFP photo)
National police chief Bambang Hendarso Danuri said an accomplice of the men had told police they were planning to detonate a small truck packed with explosives at the house later this month.
The men were shot dead by police as they tried to throw pipe-bombs to avoid arrest at their rented house in Bekasi, outside Jakarta, where the truck was found rigged with explosives along with other bomb-making material.
One of Yudhoyono's houses was about a 12-minute drive away, Danuri said.
"Our president was a target," he told reporters.