Asia-focused banking giant HSBC is considering quitting London for Hong Kong in a shock move, said The Sunday Telegraph newspaper.
Britain's biggest bank, which has been headquartered in London for 19 years, has warned key investors that it is looking at moving to Hong Kong due to the levels of tax and red tape, the broadsheet said.
The group was founded in Hong Kong and Shanghai in 1865 and the bank regards Asia as its most important region.
If HSBC left, it would be a severe blow to the British government which is relying on a private-sector-led economic recovery, The Sunday Telegraph said.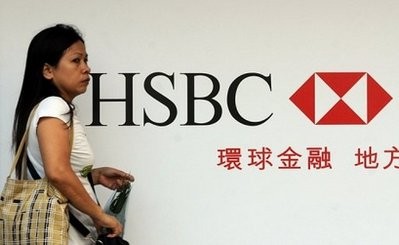 A woman walks past advertising for HSBC in Hong Kong. HSBC is considering quitting London for Hong Kong in a shock move, said The Sunday Telegraph newspaper
It survived the financial crisis without needing a government bailout.
The newspaper said it paid £1.2 billion ($2 billion, 1.4 billion euros) in British taxes last year and employs 52,000 people.
"HSBC has a review of its domicile every three years. Normally it's a formality. This time we were told that a move is now more than likely," one source described as a top institutional investor in HSBC told the broadsheet.
Another shareholder was quoted as saying: "Instinctively we were very surprised by the change of tone. But you can't argue with the numbers. Moving to Hong Kong could deliver a 30 percent premium (to the share price) overnight."
The bank reviews its domicile every three years to check whether London still makes the most sense strategically and financially, the weekly said.
A rise in operating costs, tied to an increase in financial regulations, has left HSBC looking more closely at the conditions in Hong Kong, the report suggested.
An HSBC spokesman said: "London is ideally positioned as an international financial centre and we have been clear that it is our preference to remain headquartered here.
"However, we are routinely asked by institutional investors about the costs of being headquartered in the UK and it's clear that the City's competitive position needs protection."
HSBC said Monday that its net profit more than doubled to $13.16 billion (9.56 billion euros) last year as bad debts plunged to the lowest level since 2006.
Pre-tax profits soared 170 percent to $19 billion in 2010, while loan impairments and other credit risk provisions dived 47 percent to $14.04 billion. Revenues rose 3.1 percent to $68.3 billion.
"Underlying financial performance continued to improve in 2010," HSBC chief executive Stuart Gulliver said in the results statement.