US President Barack Obama and China's Hu Jintao Tuesday pledged to apply their joint political might to the world's toughest problems, but friction was evident on Tibet, economics and Iran.
In solemn talks at the Great Hall of the People in Beijing, the high point of Obama's debut visit to China, the leaders ploughed through an agenda packed with top world crises, reflecting China's rise as a key global player.
Hu vowed to work for "positive, cooperative and comprehensive" ties with Obama's administration, and the US leader, seeking to cement his early relationship with Beijing, adopted the same diplomatic formula word for word.
The pair voiced agreement on the need for action on climate change, prodding North Korea back to six-party nuclear talks and a common undertaking to help return the global economy to growth after the dark economic crisis.
US Ambassador to China Jon Huntsman said the president was well on the way to forging the kind of relationship with Beijing that could help him tackle global crises which demanded the intervention of the two great powers.
The Sino-US relationship was "at a cruising altitude that is higher than any other time in recent memory, thereby able to sail above the wind shears or even storms", Huntsman said.
"The US-China relationship has gotten global... there are really only two countries in the world that can solve certain issues."
But the leaders' nuanced statements pointed to differences between two competing powers deeply interlinked economically and repeatedly thrust together on world problems on which they have differing views.
After their talks, they appeared together to read formal statements to several hundred journalists, but both hinted at their divides.
Hu told Obama for they needed to "oppose and reject protectionism in all its manifestations". Washington has angered Beijing by slapping tariffs recently on Chinese tyre exports and preliminary duties on some steel products.
Hu added the two sides needed continued "consultations on an equal footing to properly resolve economic and trade frictions".
Obama, tactfully voicing US worries that China's yuan currency is being kept artificially low to boost Chinese exports, said he welcomed "past statements" by Beijing to pursue a market-oriented exchange rate "over time".
That language left open the possibility Hu had made no fresh offer of action which Obama said would make "an essential contribution" to rebalancing the global economy -- code for weaning China off export-led growth.
On Iran, Obama warned that if Tehran did not "present and demonstrate its peaceful intentions" with its nuclear programme, it would face "consequences".
But Hu was less adamant, saying only the issue needed to be solved through "dialogue and negotiations". There was no sign Beijing now shared the impatience of Russia, another key power, on Iran's foot-dragging.
Obama, who angered critics by declining to meet the Dalai Lama before travelling to Beijing, pointedly raised the issue of Tibet.
"We did note that while we recognise that Tibet is part of the People's Republic of China, the United States supports the early resumption of dialogue between the Chinese government and representatives of the Dalai Lama," he said.
Both leaders said their nations, the two biggest emitters of greenhouse gases, were vital to hopes of a deal to slow global warming, despite clear signs that no global deal will emerge from next month's Copenhagen conference.
"Our aim there is... not a partial accord or a political declaration but rather an accord that covers all the issues in the negotiations and one that has immediate operational effect," the US leader said.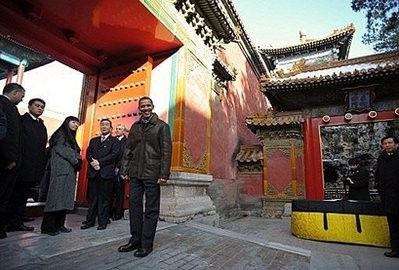 US President Barack Obama (centre R) takes part in a tour of the Forbidden City in Beijing
The sides announced a series of new initiatives on clean energy research and agreements on the cleaner user of coal, electric vehicles and shale gas.
Obama's talks with Hu came on the third leg of his four-nation maiden tour of Asia as president, which concludes on Thursday in South Korea.
After the press conference, Obama braved the crisp November air for a hectic tour of the ancient Forbidden City, one of the few moments of tourism in a trip that also took him to Japan and a regional summit in Singapore.
Hu later laid on the lavish splendour of a full state dinner for Obama, with Chinese-style beef steak and Great Wall wine on the menu.
On Wednesday, the penultimate day of his Asian tour, Obama will have talks with Premier Wen Jiabao and tour the Great Wall of China, before heading to US ally South Korea.