Hundreds of thousands of mourners were expected Saturday at a memorial for victims of Poland's air crash tragedy, as a volcanic cloud threatened to keep world leaders from the president's funeral.
The service, in a historic Warsaw square that has previously hosted papal masses, comes a week after a plane carrying president Lech Kaczynski and 95 others crashed in Russia, killing all on board.
Sirens wailed and church bells rang across Poland Saturday at 8:56 am (0656 GMT), the exact time a week ago when a plane crash in Russia killed the Polish president and 95 others.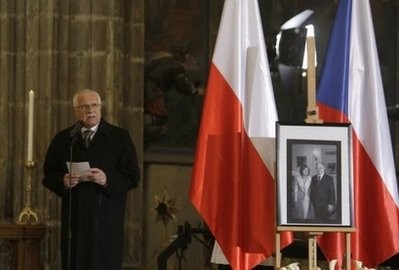 Czech President Vaclav Klaus delivers a speech during a memorial mass to honour Poland's late president Lech Kaczynski and his wife Maria at the St. Vitus Cathedral in Prague
Cars on the streets in the centre of the capital Warsaw drew to a halt and pedestrians stood still solemnly, as a day of commemoration began for what has been called the nation's worst peacetime tragedy.
Kaczynski and his wife are set to be buried on Sunday in the southern city of Krakow. But the volcanic ash cloud from Iceland that has disrupted air travel could prevent dignitaries including US President Barack Obama from attending.
Sirens are set to wail and church bells will ring across the country at exactly 8:56 am (0656 GMT), the time a week ago when the plane came down in what has been dubbed Poland's worst peacetime disaster.
In Warsaw, the four-hour memorial service starts at noon in Pilsudski Square, which is also home to Poland's tomb of the unknown soldier.
It has been the traditional site of national events including a vast mass held by late Polish pope John Paul II when he visited his deeply Catholic homeland in 1979.
During the past week mourners have covered the square with coloured candles, while a huge stage with black and white photos of the dead has been set up.
In a bitter irony, the presidential jet came down while carrying a delegation to a ceremony for the 70th anniversary of the Katyn massacre, when 22,000 Polish officers were slaughtered by Soviet forces in World War II.
The crash scythed through the upper echelons of Polish society: victims of the crash included the country's military chief, the heads of all three armed forces, the governor of the central bank and the head of the country's Olympic committee.
Iconic opponents of the country's former communist rulers were also on the plane, as well as relatives of Katyn victims.
After the mass in the square on Saturday, the closed coffins of Kaczynski and his wife Maria, who have been lying in state in the presidential palace since Tuesday, will be taken to nearby St. John's Cathedral.
Warsaw's Archbishop Kazimierz Nycz will lead a service followed by an overnight vigil.
The bodies will arrive in Krakow on Sunday morning for the funeral in the cathedral of Krakow's hilltop Wawel castle, where Poland's past kings and national heroes already lie.
But the attendance of foreign leaders including Obama and Russian President Dmitry Medvedev was in doubt after Poland joined other European nations and closed its airspace on Friday due to the spreading volcanic ash cloud.
Almost 80 foreign delegations had been due to land at Krakow airport Sunday.
Kaczynski's family have insisted the funeral go ahead as planned on Sunday.
The government meanwhile said there had been no cancellations by foreign leaders so far.
"To a large degree it all depends on which way the wind blows," Krakow city spokesman Filip Szatanik told AFP.
The family's earlier decision to bury Kaczynski, a divisive political figure in life due to his conservative, nationalist policies, at Wawel castle sparked protests and a Facebook campaign during the week but they have died down.
His identical twin brother Jaroslaw, who served as prime minister between 2006 and 2007, could stand in early presidential elections expected on June 20.
One opponent could be the likely liberal candidate and current interim president Bronislaw Komorowski.
Russian and Polish investigators are continuing to probe the cause of the crash. Russian officials said that they suspected pilot error following the first analysis of the black box recorders of the Russian-made Tupolev Tu-154.