Pittsburgh heaved a sigh of relief Friday as a summit of the world's top economies came to an end without a repeat of the previous day's violence, despite thousands taking to the streets.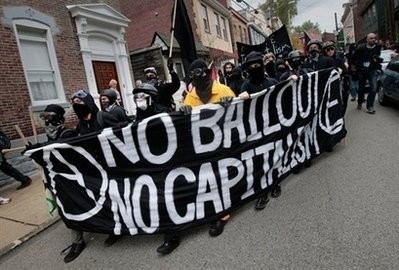 Pittsburgh heaved a sigh of relief Friday as thousands of activists peaceful rally against leaders of the world's top economies after a day and night of violent street protests. (AFP Photo)
Waving banners and chanting slogans, protesters stretched out of sight as people made their way down the city streets lined by black-clad riot police, still tense after the previous night's violent anti-G20 protests.
The G20 represents the leaders of the world's most powerful economies and the group's summits attract a motley crowd of anti-globalisation activists and anarchists opposed to what they see as its inhumane free market policies.
According to security forces there were up to 4,500 marchers, but Peter Shell, president of the Thomas Merton Center which helped organize the march, estimated the number at twice that.
"The crowd went back eight to 10 blocks, and you can get 1,000 people in every block," Shell told AFP.
"It was the biggest protest march in Pittsburgh since the 1970s protests against Vietnam War."
As the marchers massed at the top of Fifth Avenue, a riot policeman rapped his baton hard against his shinguards, making a hollow thud with every tap.
"They're itching for a fight," said a bystander. "This is really an excessive show of police force. Pittsburgh is a welcoming place."
Tensions ratcheted up a notch when three protesters bearing signs that said "Human need, not corporate greed" sat down in the middle of the road, but the situation was resolved without a fight.
After a night of violence sparked by young anti-G20 protesters who defied police orders and tried to march on the summit venue, the police, thousands of whom had been shipped in from other cities, were on high alert.
The black-clad, masked anarchists who fought running battles with police here Thursday drew inspiration from previous demonstrations at global summits, including the G20 London meeting summit in April, where where one bystander died after being hit by police.
But on Friday, when the march began to flow after the sit-down protest was peacefully removed, the tension began to lift.
Mothers carrying infants, people with their dogs, couples holding hands and entire groups waving flags and holding banners marched down the avenue in the shadows cast by skyscrapers built for large corporations, turning the streets of Pittsburgh into a palette of protest messages of every color.
One group chanted "Money for children, not for war." Tibetans chanted "Stop the genocide".
Members of the Falun Gong religious group marched in silence, bringing up the rear of the march.
"We came here to protest the Chinese regime and let people know about the persecution of Falun Gong," said Kwi Hwang, who says he was forced to work as slave labor for the Chinese, shelling pistachio nuts, making cane chairs and plastic flowers, while he served a five-year jail term "for my beliefs".
"When I came to America, I saw the things I made as a slave in a Big Lots store," he said with a wry smile as he put a human face on one of the chief gripes of the anti-G20 protests.
A young girl chanted at police as she passed: "You're sexy, you're cute, take off that riot suit."
A youth who tried to cross the police line to hug a bystander was brusquely pushed back by a riot policeman. "Don't do that again," the police officer said sternly.
On Thursday, riot police had fired pepper spray and non-lethal rounds at a group of hardline protesters who refused to disperse after being told by the Pittsburgh chief of police their march was illegal.
Sixty-six people were arrested, shops and businesses in the university area were vandalized, and at least six people were injured during Thursday's hours-long spree of violence.
Ben Kopp, 20, who had traveled from Connecticut to be at the march, was a little apprehensive but determined to get his own message to the leaders of the G20 nations -- that they should stop "taking advantage of people" to achieve their economic goals.
"I'm a little nervous," he told AFP as he crossed the Seventh Street bridge, which like the rest of the route was thick with riot police, on the final straight of the march.
"I'd rather not get teargassed but when you think of the millions of people who go hungry every day around the world, a little bit of teargas would be worth it, if we can made ourselves heard," he said.