More than 250,000 people fled their homes as out-of-control wildfires raged across California on Monday, prompting authorities to draft in the US military to support weary firefighters.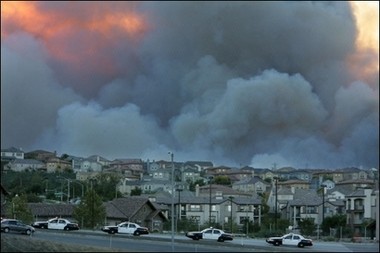 Police cars drive by as smoke billows to the sky above spreading fires 22 October 2007 in Stevenson Ranch, California.(AFP Photo)
At least 13 fires were blazing throughout southern California with thousands of firefighters struggling to contain flames that have reduced more than 600 homes and 100 businesses to charred rubble, officials and reports said.
One person has been killed, more than 20 people injured and around 260,000 acres (1,000 square kilometers) have been destroyed in the fires, which are some of the worst in the state's history.
California Governor Arnold Schwarzenegger, who has declared states of emergency across several counties, described the crisis as a "tragedy" and said President George W. Bush had offered federal government support.
"It's a tragic time for California," Schwarzenegger said after touring charred remains of buildings in the celebrity enclave of Malibu.
Later Monday Schwarzenegger's office said 1,500 national guard soldiers had been deployed to help firefighters. The governor had also requested assistance from the Pentagon, being granted the use of airborne fire-fighting craft.
By late Monday a vast battalion of several thousand personnel backed up by 316 fire engines, 19 airtankers, 15 bulldozers and eight helicopters was engaged in combat with the myriad infernos.
Fire authorities admitted they were struggling to control the fires and are grimly expecting the situation to worsen as powerful, hot desert winds gust across the region this week.
San Diego County Sheriffs revealed that a total of 194,673 households had been evacuated in rural areas across the region.
Among the evacuees were prison inmates and hospital patients, while several schools were also closed.
San Diego Fire Rescue spokesman Maurice Luque said the wildfires were more serious than the blazes which ravaged California in 2003, leaving 22 people dead and destroying 3,000 homes.
Many parts of California, including Los Angeles, have experienced record low rainfalls this year, leaving hundreds of thousands of acres of countryside at the mercy of wildfires.