Hundreds rallied Saturday in New York against plans to give the alleged 9/11 mastermind a civilian trial in the city, saying the court will be turned into an Al-Qaeda propaganda platform.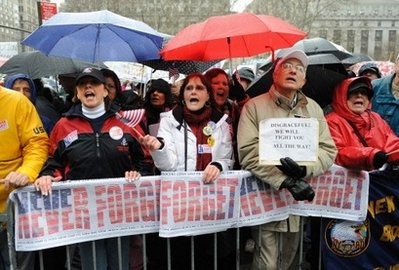 People sing during a rally by the 9/11 Never Forget Coalition across the street from Federal Court in New York to protest the plan to bring the conspirators in the September 11, 2001 attacks to trial in the city. (AFP Photo)
"They are war criminals," one of the speakers, firefighter and US Marine Peter Regan, said to cheers. "The terrorists should be tried in a military court."
The small crowd huddled under umbrellas in chilly rain outside Manhattan's federal courthouse where Khalid Sheikh Mohammed and four other 9/11 suspects are to be tried after transferring from the controversial US prison at Guantanamo Bay, Cuba.
The courthouse is a few blocks from Ground Zero, site of the former World Trade Center, which was destroyed on September 11, 2001, when hijacked airplanes slammed into the Twin Towers and into the Pentagon outside Washington, killing nearly 3,000 people.
President Barack Obama and his Attorney General, Eric Holder, have made bringing Mohammed to a fair trial a centerpiece of a broader plan to end what they see as serious abuses of law under the previous administration of George W. Bush.
But the 9/11 Never Forget Coalition, which organized the rally, argues that those behind the attacks do not deserve the same legal rights provided to US citizens.
Many protestors waved the US flag, chanting: "USA, USA!" while others displayed slogans supporting Bush and the secretive Guantanamo facility, or voicing criticism of Obama.
"This is treason!" one man shouted repeatedly.
One of the most common complaints was fear that a public trial would enable Mohammed and his co-accused to make incendiary speeches.
"America has given these people an even louder megaphone in the best theater in the world," actor Brian Dennehy told the crowd. "I am worried that millions of angry young people watching Al Jazeera will come to the conclusion that America has caved in."
Protestor Sue Vaccaro, an elegantly dressed, elderly woman trying to shelter with a friend under a flimsy umbrella, echoed that warning.
"Holder is giving a megaphone to the terrorists to spout their hatred of this country," she said.
The same message is being aired in Washington, where Obama's decision last month to move the 9/11 suspects into the civilian justice system -- after years of secret detention and abusive interrogation -- caused an uproar.
"A civilian trial gives these conspirators a national platform from which to spew their propaganda and access to sensitive information regarding American intelligence," said Republican congressman Trent Franks.
Holder responds that America will take the moral high ground by giving its enemies a proper trial.
"I have every confidence that the nation and the world will see him for the coward that he is," Holder said. "I'm not scared of what Khalid Sheikh Mohammed has to say at trial and no one else needs to be afraid either."
While many speakers at the New York rally Saturday lost relatives on 9/11, or themselves narrowly survived, not all 9/11 victims' organizations oppose Obama's policy.
Experts say many factors will determine the extent to which the five accused could mount a public spectacle.
If they plead guilty, the judge would move straight to sentencing, offering the men only limited opportunity to speak.
If they plead not guilty and dismiss their attorneys, as they did in military tribunals at Guantanamo, then they would mount their own defense and be able to address the jury at length.
However, judges have wide powers to cut short testimony deemed irrelevant or time-wasting.
"It's all going to depend on the judge in the end. They'll be dealing with a court of people experienced with these things," said Edward MacMahon, who represented convicted Al-Qaeda member Zacarias Moussaoui.
Moussaoui insulted both the judge overseeing his case and his lawyers in legal documents. As a result, he lost the right to represent himself.
"If they are their own lawyers, they have to conduct themselves as lawyers. If they don't, they'll just have to sit there," MacMahon said of the 9/11 suspects.
But a determined defendant can always make headlines simply by blurting out statements, MacMahon said.
"What would often happen was that... all the reporters would pull out their notebooks and he (Moussaoui) would say 'God bless Osama Bin Laden!' and they'd all write that down."