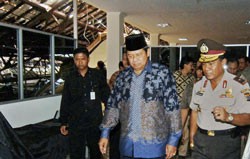 Indonesian President Susilo Bambang Yudhoyono visits Yogyakarta after the quake, May 28, 2006 (AFP Photo)
Thousands of troops and emergency rescue teams joined volunteers who clawed at debris with their bare hands following Saturday's disaster on Indonesia's main island of Java.
In hard-hit Bantul district, south of the provincial capital Yogyakarta, the stench of bodies filled the air as soldiers used a backhoe to dig through the rubble in one neighbourhood that was completely levelled.
The top priority in the flattened district was to "evacuate victims still trapped in the rubble, using heavy equipment," said Gendut, a provincial health official.
Bodies were still being pulled from the wreckage of homes as grieving families hurriedly buried their dead in makeshift graves in simple ceremonies as they read verses from the Koran.
Officials at the social affairs ministry finally set the death toll at 4,611, rather than the figure of 3,875 given earlier, blaming the mishap on a break in internal communications.

Indonesia appealed for foreign humanitarian aid in a bid to "reduce the burden" on national and local authorities.
Hospitals struggled to cope with some 20,000 injured, many of whom spent the night outside, and relief workers rushed food and medical supplies to some of the 200,000 people left homeless.
The International Federation of Red Cross and Red Crescent Societies issued an emergency appeal for nearly 10 million dollars and pledges poured in from Western and Asian states.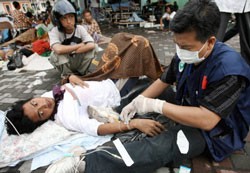 A medic treats an injured resident outside Sardjito hospital in Yogyakarta, May 28, 2006 (AFP Photo)
Aid workers said the immediate priority was to treat the injured, but warned that dwindling supplies of food and water and a lack of housing could pose long-term challenges.
"Clearly the top priority right now is the treatment of injured people," UNICEF spokesman John Budd told AFP.
"There are three hospitals in Bantul and five in Yogyakarta -- all are overwhelmed and they are not even treating the slightly injured any more," he said.
Anton Susanto, a member of the UNICEF assessment team already in the quake zone, said 30 to 40 percent of those injured were children, with many suffering from head wounds and broken bones.
"People are just laid out everywhere," he said.
The 6.3-magnitude earthquake was Indonesia's third major disaster in 18 months, following the 2004 Asian tsunami catastrophe which killed 168,000 in Sumatra and another quake that killed more than 600 people in Nias in March last year.
Indonesia sits on the Pacific "Ring of Fire", where the meeting of continental plates causes high volcanic and seismic activity, and the jittery region was rattled by two more strong earthquakes Sunday.
An undersea quake measuring 6.2 hit Papua New Guinea at 0312 GMT and about 20 minutes later a 6.7-magnitude quake shook the ocean floor near the Pacific islands of Tonga, the US Geological Survey said. There were no reports of any casualties or damage.
Mount Merapi volcano, north of the epicenter of the quake on Java, continued to simmer after weeks of spewing lava and heat clouds that saw 20,000 people evacuated from their homes amid a major eruption alert.
Most of the major damage and casualties occurred in towns and villages in the lush green farming belt south of the ancient city of Yogyakarta, with a population of 1.5 million.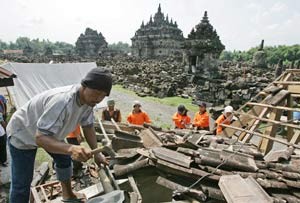 Workers remove rubble in front of a damaged temple on the outskirts of earthquake-hit Yogyakarta, May 28, 2006 (AFP Photo)
More than 450 aftershocks shook the region, further terrifying residents who were afraid to return to their homes.
As volunteers distributed food, bottled water, tents, tarpaulins and baby kits, Indonesian troops battled to repair cracks in Yogyakarta's airport runway to speed the arrival of aid.
The Jakarta government has earmarked 50 billion rupiah (5.5 million dollars) for relief operations around Yogyakarta, 400 kilometres (250 miles) southeast of Jakarta.
Offers of help came from around the world including the United States, Pakistan, Canada, China, Britain, South Korea and France. Malaysia, Singapore, Taiwan, Turkey and Norway despatched emergency medical teams.
UN Secretary General Kofi Annan led those expressing grief.
"The secretary general is deeply saddened by the loss of life, the hundreds of injuries and the destruction suffered by the people of Indonesia," a UN spokesman said.
Source: AFP