The first hurricane of this year's Atlantic season gathered force far out to sea Monday, while two weaker storm systems drenched the northeastern Caribbean and the Florida Panhandle with rain.
Hurricane Bill was expected to become a major storm in the next couple of days, with winds topping 110 mph (177 kph) as it moved on a track expected to be near Bermuda by the end of the week.
The storm is very large, with tropical winds extending out 200 miles, so Bermuda faced a potential threat even if the Atlantic island avoided a direct hit, said Nick Camizzi, a forecaster with the British territory's weather service.
"We are keeping an eye on it for sure," Camizzi said.
It was too soon to tell if Bill would threaten the eastern coast of the United States, said John Cangialosi, a meteorologist at the U.S. National Hurricane Center. It was not expected to threaten Florida.
"The system is certainly large and eventually will be a powerful hurricane," Cangialosi said. But colder waters and wind shear could weaken it when it moves farther north.
What began as Tropical Storm Ana, the first named storm of the season, weakened into a tropical depression as it raced past the Leeward Islands, U.S. and British Virgin Islands and Puerto Rico, apparently moving too quickly to cause more than minor flooding.
But even as the system dissipated it posed a potential threat to Hispaniola, the island shared by Haiti and the Dominican Republic, where impoverished riverside communities are extremely vulnerable to flooding.
Dominican authorities evacuated more than 100 people from areas at risk for flooding and mudslide, but the rains turned out lighter than expected as the broke apart.
Still, officials maintained flood alerts for 12 provinces in the east, warning that the storm could drop up to 150 millimeters (6 inches) of rain in some areas.
"As of now the rivers are rising above their normal levels, but nonetheless we do not have flooding, thank God," said Carlos Paulino, a deputy director of the Center for Emergency Operations in the Dominican capital, Santo Domingo.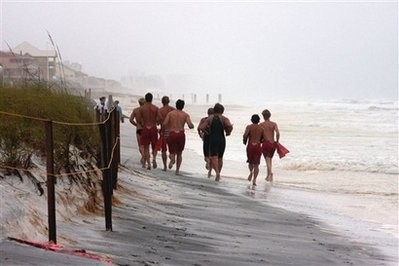 Erosion from the high tides of Tropical Storm Claudette is shown along the beaches of Destin, Fla.
Officials in neighboring Haiti, devastated last year by four successive storms that killed some 800 people and caused $1 billion in damage, said they were relieved that Ana had weakened. But residents were warned to continue exercising caution around rivers and coastal areas.
In Puerto Rico, rain from Ana flooded highways in the capital, San Juan, and three schools closed as a precaution in the northern coastal city of Arecibo. The U.S. territory was expecting 2 to 4 inches of rain.
Ana was moving at a relatively fast pace, said Dave Roberts, a Navy hurricane specialist at the U.S. hurricane center. Although tropical storm watches were canceled for the storm Monday afternoon, Roberts said it could still be a big rain event for Haiti and the Dominican Republic, especially in higher elevations.
Along the Florida Panhandle, Tropical Storm Claudette quickly weakened after it made landfall at Fort Walton Beach, and was downgraded to a tropical depression with winds of about 30 miles per hour.
The storm wasn't expected to cause significant flooding or wind damage as it moved northwest into Alabama and Mississippi.
A man in his mid-20s died after being pulled from surf as Claudette approached Sunday. In Bay County, authorities searched for another man whose boat ran aground Sunday night, though they believed he made it ashore. Neither man's identity was released.
After the storm passed east of Pensacola Beach on Monday morning, joggers and tourists seeking sea shells dotted the beach.
Far out in the Pacific, Hurricane Guillermo weakened to a tropical storm with maximum sustained winds near 60 mph. Guillermo was centered about 695 miles east of Hilo, Hawaii, and moving west-northwest near 18 mph.