Hurricane Jimena on Monday roared toward Mexico's Baja California as an extremely dangerous Category Five storm, Mexican officials said as they planned emergency evacuations for 20,000 families.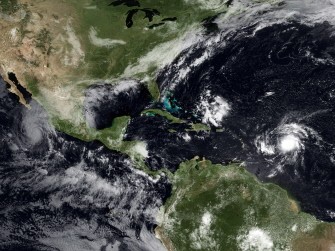 This August 31, 2009 National Oceanic and Atmospheric Administration (NOAA)satellite handout image shows Hurricane Jimena in the eastern Pacific Ocean. (AFP Photo)
Jimena was packing winds of up to 155 miles (250 kilometers) per hour but was expected to weaken slightly before making landfall in Baja California late Tuesday or early Wednesday, the National Weather Service said.
The government issued a tropical storm watch for the west coast of Mexico's mainland, from Altata to Huatabampito.
The center of the hurricane was 245 miles (390 km) south of Cabo San Lucas as of 0300 GMT Tuesday, according to the Miami-based National Hurricane Center (NHC), a US government agency that tracks and predicts storms.
US forecasters put Jimena at a Category Four on the one-to-five Saffir-Simpson scale, but noted that the storm was "very near the threshold of Category Five status."
Residents of the northwestern peninsula frantically boarded up their homes and stockpiled goods as the most powerful hurricane of the year approached.
More than a thousand foreign tourists left Los Cabos, a resort town on the southern tip of Baja California, which was placed on high alert as emergency officials prepared contingency plans.
The local hotel association estimated that some 7,000 tourists would be evacuated before the storm was expected to make landfall on the resort-filled peninsula, which spears south from the US state of California into the Pacific.
Los Cabos International Airport manager Martin Pablo Zazueta told AFP the airport would be closed starting early Tuesday.
Any evacuation plan would focus on densely populated areas and valleys at greatest risk of flooding, according to Los Cabos civil protection agency chief Francisco Cota.
"It will place special emphasis on the more than 20,000 families who live in high-risk areas," he told journalists after a meeting of civil defense officials.
Jimena forced a major international conference on tax transparency to be moved from Los Cabos, and set up in Mexico City instead.
The Paris-based Organization for Economic Cooperation and Development (OECD) said it had moved the event because of the "threat of severe damage posed by Hurricane Jimena."
US meteorologists said Jimena could produce up to 15 inches (38 centimeters) of rainfall in isolated areas, and a total of five to 10 inches (13 to 25 cm) over the southern half of the Baja California peninsula and parts of western Mexico during Tuesday and Wednesday.
The US State Department urged caution before risking travel to areas of Mexico and the United States lying in the storm's path.
"US citizens located in areas likely to be impacted by Hurricane Jimena and who do not have access to adequate and safe shelter should consider departing while commercial flights are still available," it said in an alert.
With gusty winds and rains already hitting La Paz, the capital of the peninsula's southern Baja California Sur state, residents were hastily boarding up windows and stocking up on groceries before the shops closed.
Jimena was moving northwestward at about nine mph (15 kph) and could approach the southern portion of Baja California on Tuesday, the NHC said.
Although the hurricane's strength would fluctuate in the coming days, it was expected to make landfall as a major hurricane, according to the NHC, which warned that a "dangerous storm surge" and "battering waves" could bring significant flooding to the peninsula.
Flooding and landslides were reported over the weekend in southern Mexican states as the hurricane churned its way up the Pacific coast.
Meanwhile, Tropical Storm Kevin weakened to a tropical depression with top winds at 35 mph (55 kph).
Located further out in the Pacific, it was located 840 miles (1,355 km) west-southwest of the southern tip of Baja California. The NHC said the weather system was expected to weaken further in the next couple of days.