ABIDJAN (AFP) – Fighters for Ivorian president-in-waiting Alassane Ouattara were accused on Saturday of new atrocities as the United Nations warned that forces backing his rival Laurent Gbagbo were gaining ground in Abidjan.
Human Rights Watch said forces backing Ouattara killed or raped hundreds of people and burned villages during a rampage in late March, citing new evdence of summary killings of Gbagbo supporters in the far west, where Ouattara's forces swept through en route to Abidjan.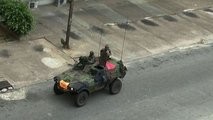 AFP - An image taken from AFP TV footage shows French troops patrolling in a street of Abidjan.
UN investigators had said Friday they had found 118 bodies in the past 24 hours.
"The reports that the UN human rights team in Cote d?Ivoire are sending back are utterly horrifying," UN High Commissioner for Human Rights Navi Pillay said in a statement.
Ouattara, the internationally recognised winner of November elections, denied that his forces were involved when UN leader Ban Ki-moon asked him about the killings in the west.
He promised in a televised address Thursday that the perpetrators of the crimes would be punished.
Several hundred people were reportedly massacred in the western town of Duekoue last week, with forces loyal to Gbagbo and Ouattara blaming each other and the International Criminal Court in The Hague announcing a formal probe.
"To understand the tragic events in Ivory Coast, a line cannot be drawn between north and south, or supporters of Gbagbo and Ouattara," said Daniel Bekele, HRW's Africa director.
"Unfortunately, there are those on both sides who have shown little regard for the dignity of human life."
On Friday meanwhile, UN peacekeeping chief Alain Le Roy said that troops fighting for strongman Gbagbo, who has refused to cede power, still had tanks and other heavy weapons and had made advances in Abidjan, the west African nation's main city.
They were just one kilometre (half a mile) from the hotel headquarters of Ouattara, Le Roy told reporters after a UN Security Council briefing.
"They clearly used the lull of Tuesday as a trick to reinforce their position," Le Roy added, referring to a lull in the fighting after three Gbagbo generals sought talks but Gbagbo then refused to surrender.
"They have still many heavy weapons in hand" including tanks, M-21 rocket launchers, rocket-propelled grenade launchers and armoured personnel carriers, Le Roy said.
At the same time troops loyal to Ouattara have encircled Gbagbo, who has taken refuge at the bunker in his Abidjan residence.
The United Nations, the United States and aid groups have warned of a looming humanitarian crisis in what was once one of the region's most stable and prosperous countries.
In Abidjan Friday, bodies still lay in the streets and there were shortages of food, water and medicine.
On Thursday, Ouattara announced the blockade of Gbagbo's residence and in a televised address called on his troops to restore order in Abidjan, where roaming militia have been engaged in looting and random attacks.
Addressing Ivorians for the first time since the post-election crisis came to a head, Ouattara appealed for national reconciliation and a resumption of economic activity in the world's leading cocoa producer.
The European Union responded Friday by lifting its sanctions on two key ports in Ivory Coast and the authority that oversees its vital cocoa industry.
The World Food Programme and UN relief agencies appealed for humanitarian corridors in the country to ensure safe access to fleeing civilians and to facilitate aid deliveries from Liberia and Ghana.
About 1,600 foreigners have been flown out of Abidjan in recent days, while about 1,800 foreign citizens were being sheltered at a French military base, a French force spokesman said.
UN and French forces on Friday evacuated ambassadors and diplomats from the Indian, South Korean, South African and Israeli embassies in Ivory Coast, UN officials said. They said the German, US and Brazilian embassies were among those awaiting UN help.
The UN Children's Fund (UNICEF) and World Health Organisation warned of the threat of mass outbreaks of disease, including a resurgence of a deadly cholera outbreak in Abidjan.