Ivory Coast seeks to end a decade of conflict and instability on Sunday when it votes in the decisive round of a tense presidential election marred by deadly violence.
Polls were due to open at 7:00 am (GMT) and close at 5:00 pm across the west African country where some 5.7 million voters are eligible to vote, choosing between President Laurent Gbagbo and former prime minister Guillaume Soro.
Three people died in Abidjan Saturday in violence between police and demonstrators protesting against a curfew ordered for five nights from Saturday by Gbagbo after a series of earlier clashes.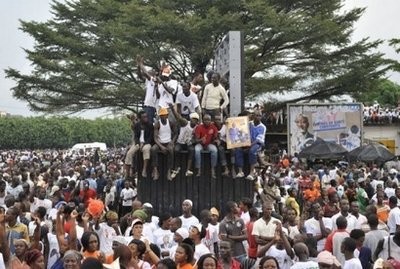 Supporters of former Ivory Coast prime minister and presidential candidate Alassane Ouattara gather in Abidjan during a campaign meeting
Demonstrators clashed with the police who used firearms in Abidjan's northern slum district of Abobo, a stronghold of Alassane Ouattara, witnesses and a police source told AFP.
Ouattara and his rival, President Laurent Gbagbo, appealed jointly for calm after the deaths, following a long meeting with the election mediator, Burkina Faso president Blaise Compaore.
"We launch a solemn call to all voters and activists to refrain from acts of aggression against people, property and electoral equipment, so the vote can be organised in the peaceful climate necessary for transparent elections," they said.
"We are solemnly committed to respecting the outcome of the ballots," they added in a joint statement.
Ivorian and UN forces have bolstered their deployments around the country in case of violence.
The election aims to stabilise what was once west Africa's most prosperous country after a decade of political crisis following a 1999 coup and a 2002 civil war that split the nation in two between north and south.
Gbagbo, a southern Christian who has held on to power since his term expired in 2005 and is fighting for re-election, won 38 percent of the vote in the first round. Ouattara, from the largely Muslim north, took 32 percent.
Each is now seeking to grab votes from supporters of the defeated first-round candidate, former president Henri Konan Bedie, whose base is in the centre of the country.
Bedie has publicly thrown his support behind Ouattara, but as campaigning ended there was no indication of who had the edge.