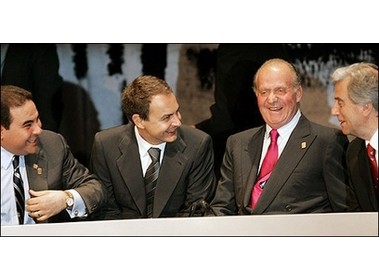 El Salvador's President Antonio Saca (L to R), Spain's Prime Minister Jose Luis Rodriguez Zapatero, Spain's King Juan Carlos de Borbon and Uruguay's President Tabare Vazquez, share a laugh before the opening of the XVI Iberoamerican Summit in Montevideo
Leaders from Spain, Portugal and their former colonies in the Americas condemned the controversial US border fence with Mexico and the US economic "blockade" against Cuba at a summit here.
The 16th annual Ibero-American Summit that opened in the Uruguayan capital is focusing on immigration, and a special statement on the US border fence, presented by Mexico, was adopted by diplomats from the group's 22 countries.
US President George W. Bush on October 26 authorized construction of a 1,100-kilometer-long (700-mile-long) fence along one-third of the US border with Mexico to make the frontier more secure and clamp down on illegal immigration.
Mexico has said the fence was an insult and would not solve migration problems, and Mexico's president-elect Felipe Calderon has compared it to the Berlin Wall.
The United States, with some 20 million Hispanics among its population, and Spain, with 3.7 million, are the main destinations of Latin America's migrants.
Separately, foreign ministers in Montevideo called for "the blockade against Cuba to end," referring to the economic embargo Washington has had clamped on Cuba since 1961.
But former presidents of Chile, El Salvador, Uruguay and Costa Rica lamented Cuba's failure to establish a "participatory and effective democracy," approved during the group's 1996 summit.
Cuba is the Americas' only one-party communist regime.
In his address at the opening ceremony of the summit, special guest UN Secretary General Kofi Annan noted that the region had one of the highest levels of income disparity in the world.
Uruguayan President Tabare Vazquez also spoke, along with King Juan Carlos of Spain and the head of the Ibero-American General Secretariat, Enrique Iglesias.
On the regional front, Venezuela will try to mend fences with his neighbors after its failed bid to replace Argentina as Latin America's representative on the UN Security Council. After a bruising battle with Guatemala, both nations agreed on Panama as a compromise candidate.
Venezuelan President Hugo Chavez, a Washington nemesis, has also stirred regional unease with his announced military alliance with Bolivian President Evo Morales and an ongoing dispute with Mexico over a regional free-trade project that led both countries to recall their ambassadors in November 2005.
Uruguay and Argentina are also at loggerheads over the construction along a major river boundary in Uruguay of a paper mill that Argentina deems highly polluting.
Chile and Bolivia, by contrast, hope to make some headway in restoring diplomatic relations 28 years after negotiations broke down on Bolivia's demand for an outlet to the Pacific Ocean it lost in 1879 in a war with its neighbor.
Some big-names however will be absent: Cuban President Fidel Castro, now 80 and always the center of attention at such events, is still recovering from surgery and will not make it.
Neither will Brazilian President Luiz Inacio Lula da Silva, who cited exhaustion from his recent re-election bid, nor Venezuela's Chavez, who is busy campaigning for re-election.
And the presidents of Peru, Nicaragua, Guatemala, Panama and the Dominican Republic will be absent for various reasons. Also missing will be Queen Sofia of Spain, who came down with the flu.