Norway

's Muslims, reviled by the far-right extremist behind the twin attacks of July 22, began an emotional Ramadan Monday amid more funerals and ceremonies commemorating the 77 people killed.
The Muslim fasting month "will be filled with emotions and in honour of the the victims and their families," said Methab Asfar, who heads the Islamic Council, an umbrella organisation for Muslim groups across Norway.
Norway's Muslims marked the start of Islam's holy month of Ramadan just 10 days after Anders Behring Breivik carried out his deadly attacks in what he described as a battle against a "Muslim invasion" of Europe.
"Ramadan is always a special time, and we pray everyday. Of course we will be praying for the victims of the attacks and their families," Samaia Elamin, 23, told AFP as she bought fruit and vegetables for the Iftar feast when the fast is broken after sunset.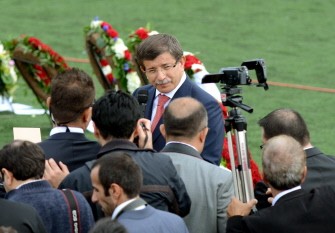 Turkish Foreign Minister Ahmet Davutoglu (C) is pictured as he attends on August 1, 2011 in Trondheim, the funeral of Gizam Dogan, a 17-year-old Turkish victim of the massacre on the Utoeya island as Norwegian Prime Minister Jens Stoltenberg paid tribute today to his fellow citizens for a dignified response to the twin bomb and shooting attacks that killed 77 people on July 22.
Also in Oslo Monday, with the red, white and blue crossed flag of Norway flying at half-mast over the parliament building, the Scandinavian country's political elite, headed by Prime Minister Jens Stoltenberg, gathered inside to pay tribute to the victims.
With King Harald V and his son Crown Prince Haakon also in attendance, the gathering observed a minute of silence before striking up Norway's national anthem, "Ja, vi elsker," meaning "yes, we love" in English and listening to parliament speaker Dag Terje Andersen read each of the victims' names.
Stoltenberg also announced that a national day of commemoration and mourning would be held on August 21.
Several Muslims died in the attacks, including a 17-year-old girl of Turkish origin named Gizem Dogan, whose funeral Monday drew more than 1,000 people to the central-western town of Trondheim, including Turkish Foreign Minister Ahmet Davutoglu.
While Muslims were the actual focus of the self-confessed killer's hatred, some felt the brunt of suspicion in the chaotic hours before Behring Breivik was arrested, when many commentators were speculating that Islamist terrorists were responsible.
"Muslims were attacked verbally and physically in the hours after the attacks," Asfar said, adding that "this kind of thing should not happen in a democratic society. We need to be able to solve our differences without resorting to violence."
According to official statistics, Norway is home to some 100,000 Muslims out of a total population of nearly five million people.
The Islamic Council chief had only praise however for Norwegian authorities, who he said "handled the situation very well."
"They never pointed a finger at any group or individual based on ethnicity or religion," he said.
Behring Breivik's main target was the ruling Labour Party, which he blamed for its multicultural policies.
He first set off a car bomb in Oslo's government quarter, killing eight people and damaging the offices of among others Prime Minister Jens Stoltenberg, before going on a shooting rampage on Utoeya island near Oslo, where the party was holding a youth camp.
Sixty-nine people, most of them teenagers, were killed in the shooting.
On Monday, his lawyer told the media Behring Breivik claims he himself called police from the island in the middle of the massacre.
An open letter published Monday from a 16-year-old survivor of the attack meanwhile insisted the killer had failed in his mission to dissolve the multicultural society.
Instead, "you have united us ... You have killed my friends, but you have not killed our cause, our opinion, our right to express ourselves. Muslim women have been hugged by Norwegian women in the street in sympathy ... Your act has worked against its purpose. We have created a community," he told his attacker.
The massacre would have a deep impact on this year's Ramadan, Asfar told AFP.
"Muslim or not, our thoughts will be with the victims and their families," he said.
Throughout the month of Ramadan, devout Muslims must abstain from food, drink and sex from dawn until sunset when they break the fast with the Iftar meal.
The fast is one of the five pillars of Islam, along with the annual pilgrimage to Mecca which able Muslims should do once in a lifetime.