US Defense Secretary Robert Gates has struck a conciliatory tone on a visit to Pakistan, praising Islamabad's campaign against Taliban militants in the midst of tensions between the uneasy allies.
Gates, who was to wrap up his two-day visit Friday, stressed Washington would not impose demands or a deadline on Pakistan as it battles the threat of Islamist extremists along its western border with Afghanistan.
"Having them set pace, as to what they think the political situation can bear, is almost certainly the right thing to do," Gates told reporters on Thursday.
In his first visit to the country in three years and first under US President Barack Obama, Gates tried to reassure a public and leadership wary of Washington's plan to tackle militancy and turn around the war in Afghanistan.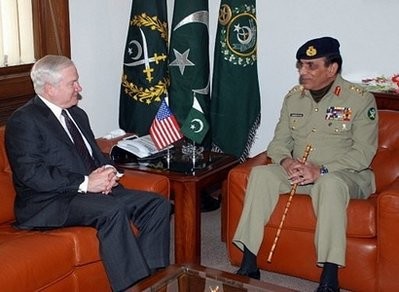 This handout picture released by Pakistan Inter Services Public Relations shows Pakistani Army Chief General Ashfaq Kayani (R) speaking with US Defense Secretary Robert Gates during a meeting in Rawalpindi
Describing a day of "productive meetings" on Thursday with Pakistani leaders, Gates' press secretary, Geoff Morrell, said the Pentagon chief was "not prescribing any timeline" for the country's campaign against militants.
While Pakistan has launched a number of assaults on Taliban strongholds in recent months, Washington has long been anxious for Islamabad to target the Afghan Taliban and Al-Qaeda-linked militants within its borders as well.
Gates said he would ask Pakistani leaders about plans to expand the campaign to North Waziristan, a bastion of Al-Qaeda and the Haqqani network, known for attacking US and NATO troops fighting the Taliban in Afghanistan.
But Pakistan's military spokesman, Major General Athar Abbas, told reporters it would take "between six months to a year to completely stabilise" South Waziristan, the focus of current army operations.
With 30,000 troops now in South Waziristan, the region would need to be secured before any new assaults were launched, he added.
The defense secretary's visit comes at a time of diplomatic tension as a bombing campaign by US drones against militants in the northwest has fuelled anti-American sentiment and drawn public condemnation from the government.
US officials, who see Pakistan as crucial to the fight against Al-Qaeda and its Taliban allies, portrayed the visit as an attempt to address misconceptions about Washington's policies in a country where scepticism of the Americans runs deep.
Gates on Friday was due to address a military audience, a crucial constituency for Washington.
His speech comes a day after talks with Pakistani army chief General Ashfaq Kayani, Defence Minister Ahmed Mukhtar, intelligence chief Lieutenant General Ahmed Shuja Pasha and President Asif Ali Zardari.
The former CIA director said his "core message" to Pakistanis was that "we are in this for the long haul and intend to continue to be a partner of theirs for far into the future."
In interviews with Pakistani media and a commentary published in a local newspaper, Gates promised Washington would be a reliable ally and would not repeat "mistakes" made in the 1990s.
He expressed regret that Washington lost interest in the region after the Soviets withdrew from Afghanistan, and lost the trust of Pakistani armed forces with a US ban on military aid prompted by Islamabad's nuclear programme in the 1990s.
Along with promoting partnership, Gates also issued a stern warning that Taliban sanctuaries must be tackled or both nations would suffer "more lethal and more brazen" attacks.
In a commentary published Thursday, Gates wrote that making distinctions between the different extremist groups -- as Pakistan is often accused of doing -- was "counter-productive".
"It is important to remember that the Pakistani Taliban operates in collusion with both the Taliban in Afghanistan and Al-Qaeda, so it is impossible to separate those groups," Gates wrote.